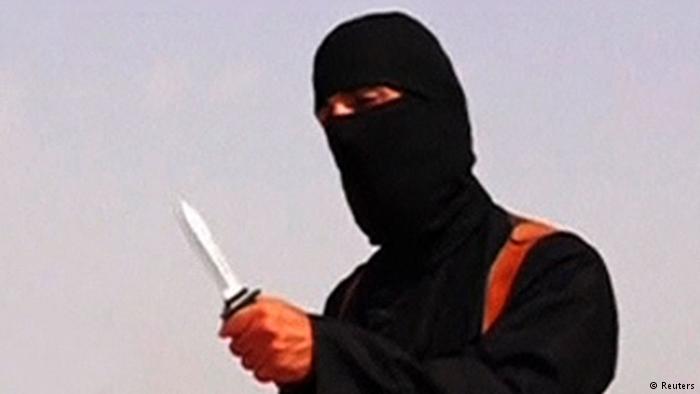 Victims' families on Friday called for two suspected members of the Islamic State (IS) gang dubbed "The Beatles" to face justice, amid uncertainty about their future destination.
The cell became prominent after the killing of several hostages, including American journalist James Foley and British aid worker David Haines.
US officials confirmed on Friday that El Shafee Elsheikh and Alexanda Amon Kotey – two of the four named after the Liverpool band on account of British accents – were captured in eastern Syria in early January.
The cell was notorious for videotaping its beheadings. In a statement, a US security official said Elsheikh and Kotey had "participated in the detention, exploitation and execution of Western detainees."
An SDF official told the Reuters news agency on Friday that no request had been received by any foreign government to hand over the two.
Demands for justice
Diane Foley, the mother of slain journalist James Foley, said the pair should face trial in the US and be locked up for life. "Their crimes are beyond imagination," she told BBC radio. "It doesn't bring James back, but hopefully it protects others from this kind of crime."
Bethany Haines, whose father David was killed in 2014, said she hoped to see the pair punished. Haines said she wanted them to be "locked up with the key thrown away."
US President Donald Trump has said jihadis caught in Syria and Iraq could be sent to the US military facility at Guantanamo Bay, Cuba.
However, French journalist Nick Henin said the men should be tried in the UK rather than sent to the notorious detention center.
"What I'm looking for is justice and Guantanamo is a denial of justice," Henin told AP on Friday. "There hasn't been a single trial in 16 years there. If we perpetrate this kind of atrocity, we are not helping our quest for justice."
Captured in countryside
The cell is alleged to have carried out at least 27 beheadings. Among its other victims were US journalist Steven Sotloff, US aid worker Peter Kassig and British aid worker Alan Henning.
US officials said the pair had been caught in early January in countryside near the de facto IS capital in Syria, Raqqa. The pair had reportedly been headed for the Turkish border at the time.
Kotey, who is of Ghanaian and Greek Cypriot background, had apparently been attempting to get back to Europe.
"As a guard for the cell, Kotey likely engaged in the group's executions and exceptionally cruel torture methods, including electronic shock and waterboarding," said a statement from the US Departement of State from January 2017, adding that Kotey had acted as a recruiter.
A March 2017 statement on Elsheikh said he had "earned a reputation for waterboarding, mock executions, and crucifixions while serving as an ISIS jailer."
The arrests follow a four-month operation by the SDF that, in mid-October, culminated with the retaking of Raqqa.
Aine Davis, a third member of the group, is being held in Turkey, while the fourth, Mohammed Emwazi nicknamed "Jihadi John,"  was killed in a 2015 coalition drone strike.