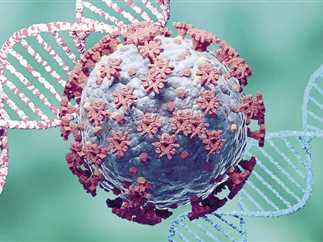 Citizens of the Middle East, including Egypt, wonder about the extent of the danger of the new coronavirus variant. This comes as reports from two countries in the region that have recently put restrictions and monitoring measures.
The variant which was discovered in South Africa and Botswana contains a large number of mutations found in other variants, including delta.
Israel placed restrictions on flights coming from seven countries and reinstated its list of red countries after the new variant emerged.
Al-Masry Al-Youm contacted an official source at the Ministry of Health to determine Egypt's position in the danger zone, and how prepared the Egyptian Ministry of Health is for the new variant. The source stressed that Egypt was still far from danger.
The official source at the Ministry of Health confirmed to Al-Masry Al-Youm that no cases of the new variant have been detected in Egypt yet, stressing that Egypt is still outside the danger zone. 
The Ministry of Health and Population confirmed that it is following up on the preliminary data received from South Africa regarding the rapid increase in infection rates with coronavirus cases, especially in the Gauteng province.
Scientific committees, experts and researchers in the Egyptian ministry, universities and research centers are studying all the preliminary data related to this new strain, the source added.
The ministry is in continuous contact with the World Health Organization(WHO), in regards to the organization's  findings by experts.  Initial reports received by the ministry and an article published, Thursday, November 25, in the specialized British weekly journal "Nature", indicate that the presence of a new variant of the virus (B.1.1.259),  is likely to be called Nu, Hossam Abdel Ghaffar, the official spokesperson for the Ministry of Health, said.
According to researchers in genome sequencing, the variant contained more than 30 changes to the spike protein, a protein that sticks to host cells and is the main target of the body's immunity. This mutation appears to be spreading rapidly across South Africa.
Although it is still too early to know the capabilities of this new strain against the protection of  the vaccines, experts in the scientific committees of the Ministry of Health, universities and research centers say they are conducting all research possible.
Abdel Ghaffar stressed that studies related to this matter will be completed as soon as possible and presented to Higher Committee for the Management of the Coronavirus Crisis in Egypt to take necessary precautionary measures.