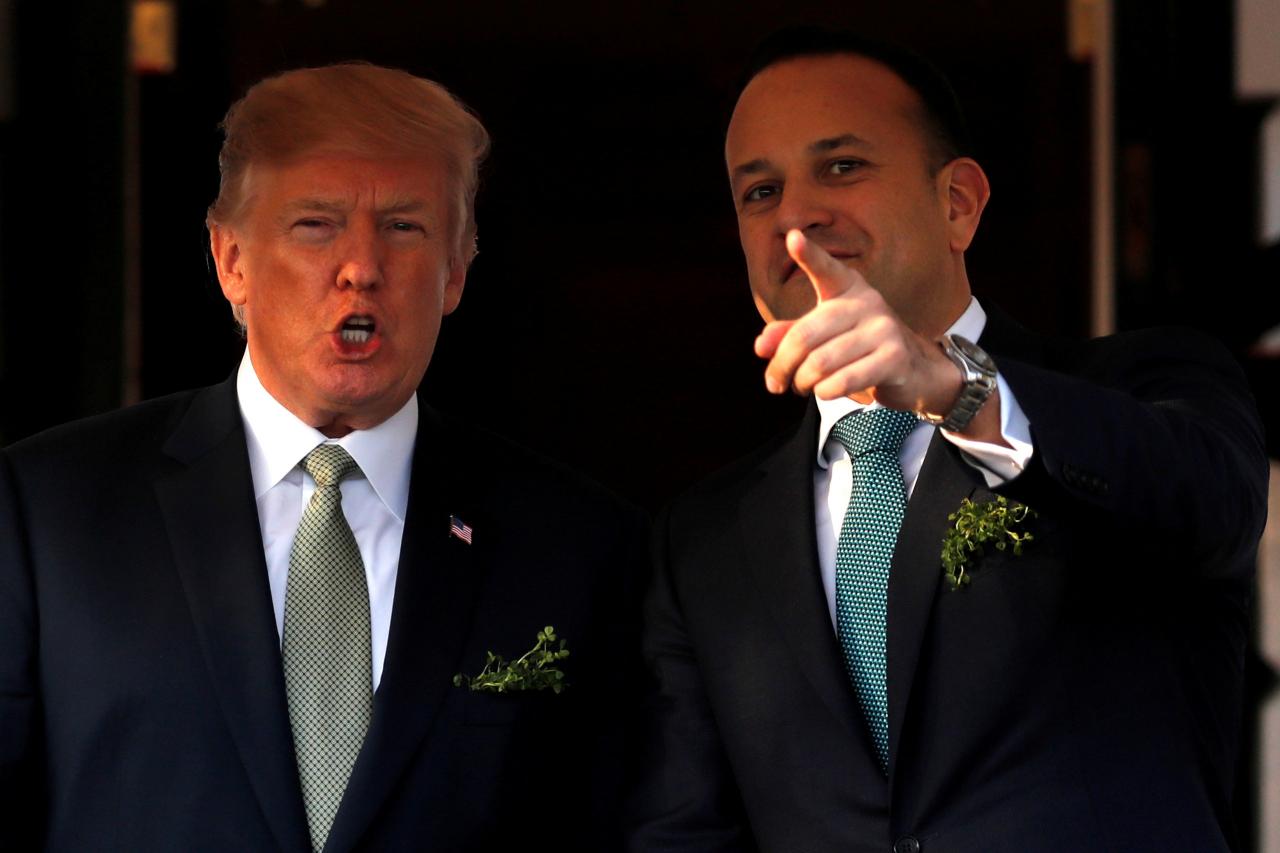 The Irish government must treat the US president's office with the respect it deserves when Donald Trump visits in November despite disagreeing with many of his policies, Prime Minister Leo Varadkar said ahead of planned protests.
Trump will travel to Ireland for the first time as president during a trip to Europe to attend a Nov. 11 commemoration in Paris of the 100th anniversary of the armistice that ended World War One, the White House said on Friday.
The president's decision to take up an open invitation to Ireland in November "came a little bit out of the blue", said Varadkar, who as a minister was against extending an invitation to Trump before changing his mind when he became prime minister.
A number of smaller opposition parties have begun organizing protests to coincide with the visit.
"I know a lot of people dislike him, a lot of people object to him, a lot of people disagree with a lot of his policies, just as I do in fact," Varadkar said in an interview with national broadcaster RTE late on Sunday.
"But he is the president of America and the relationship between Ireland and the United States is much more important than any Irish government or any US administration and I think we have to treat his office with the respect that it deserves."
Low tax Ireland is also a major beneficiary of investment by US firms with almost 800 US-based companies including major employers such as Google, Apple and Pfizer accounting for around 7 percent of the country's workforce.
Trump will visit his golf resort in the west coast village of Doonbeg as well as Dublin during the brief trip, Varadkar said.
The Irish Prime Minister will use an expected meeting with Trump to raise issues including trade, migration, human rights and Britain's exit from the European Union which is set to hit Ireland harder than any other remaining EU member.
"As you know, he's very supportive of Brexit and I once again want to explain to him why that's not the right position either for America or for Europe," said Varadkar, who met Trump in the White House in March.