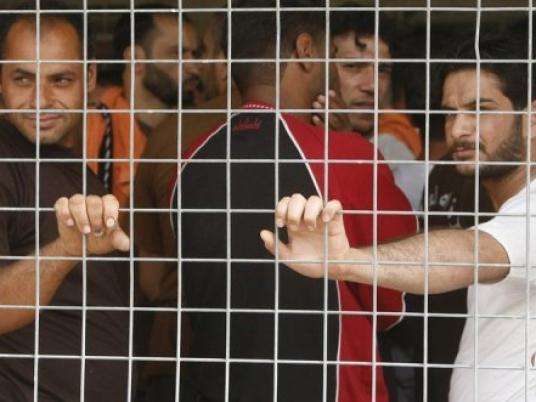 A top Iraqi minister said Sunday that the authorities had released 3,000 prisoners over the past month in a bid to appease weeks of angry demonstrations in Sunni-majority areas of the country.
Deputy Prime Minister Hussein al-Shahristani's announcement is the latest in a series of government steps to curb the protests against the alleged mistreatment of the Sunni minority at the hands of the Shia-led authorities.
"We have released 3,000 prisoners from Iraqi prisons in the last few weeks, and we transferred all women prisoners to prisons in their home provinces," Shahristani, who heads a cabinet committee tasked with addressing protesters' demands, told AFP during a visit to Mosul, a Sunni-majority city.
The two issues — Sunni detainees being wrongfully held and poor treatment of female Sunni prisoners — were among several that demonstrations in the north and west have focused on since they began in late December.
According to Shahristani, about 30,000 people are in Iraqi prisons, including those convicted of a range of offenses and those being held without charge.
He estimated that about 17,000 were either convicted or accused of crimes unrelated to "terrorism."
The remaining 13,000 were around 6,000 convicted of terror-related offences, and a further 7,000 being held without charge or accused, but not yet convicted, of terror offences.
Shahristani was speaking after meeting Sunni tribal chiefs, religious leaders and representatives of demonstrators in Mosul, one of several cities where rallies have been held.
Protests have also called for reform of anti-terror laws that demonstrators say are used to target Sunnis, and in recent weeks they have increasingly called for the ouster of Prime Minister Nouri al-Maliki, who is Shia.