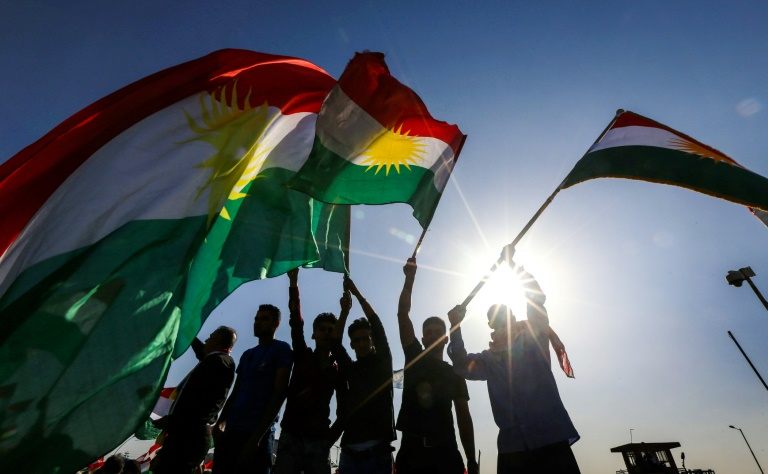 Iraqi Kurdish leaders offered Wednesday to freeze the outcome of last month's vote for independence, taking a step back in a major crisis that prompted Baghdad to seize swathes of disputed territory.
The offer came as world powers scrambled to avert any further escalation of the conflict between the key allies in the fight against the Islamic State group that has seen more than 30 combatants killed.
Washington, Moscow and the United Nations have all pressed Iraqi Kurdish leader Massud Barzani to open talks with Baghdad on a way out of the crisis sparked by the fateful September 25 vote that he called.
The Kurdistan Regional Government, led by Barzani, said it would "propose to the (federal) government and Iraqi public opinion… the freezing of the results of the referendum… and the start of an open dialogue… on the basis of the constitution."
It also called for "an immediate ceasefire and cessation of military operations in Kurdistan".
Since early last week, Iraqi federal troops and allied militia have retaken virtually all of the territory held by the Kurds outside their longstanding three-province autonomous region in the north.
In most areas the Kurds withdrew without a fight, although in the Little Zab valley close to their regional capital Arbil there was fighting and in all at least 31 combatants were killed.
The independence referendum deeply divided Iraqi Kurdish leaders and many commanders ordered their forces to pull back without resisting.
The loss of so much territory, including the major city of Kirkuk and lucrative oil fields, dealt a huge blow to Kurdish dreams of economic self-sufficiency and eventual independence.
Barzani's longtime political rival, the Patriotic Union of Kurdistan, had opposed the independence vote and backed a UN plan for negotiations on wider Kurdish autonomy.
The Iraqi constitution adopted during the US-led occupation of 2003-11 provides for plebiscites in the disputed areas on their possibile incorporation in the autonomous Kurdish region.
AFP / AHMAD AL-RUBAYEAn Iraqi armoured convoy advances on the city of Kirkuk on October 17, 2017 as part of a lightning offensive that saw Baghdad retake thousands of square kilometres (miles) of disputed territory from Kurdish forces

Washington has made clear that while it will not take sides in the conflict between its Iraq allies, it does not regard Baghdad's reoccupation of the disputed areas as a fait accompli.
"The reassertion of federal authority over disputed areas in no way changes their status — they remain disputed until their status is resolved in accordance with the Iraqi constitution," State Department spokeswoman Heather Nauert said on Friday.
– UN bids for talks –
The United Nations said on Tuesday that it stands ready to broker talks.
UN envoy Jan Kubis "expressed confidence that despite the recent tensions, Iraq will be able to ride this crisis".
"Both sides publicly expressed their willingness to engage in dialogue and negotiations on the basis of the Constitution. The UN is ready to assist, if requested," he said.
"We are confident that the Government of Iraq and the Kurdistan Regional Government, just like they banded together to defeat Daesh (the Islamic State group), can work hand in hand to overcome their differences through dialogue and away from confrontation to resolve all outstanding issues in a manner that is consistent with the constitution."
Iraqi Prime Minister Haider al-Abadi, whose domestic prestige has been sharply boosted by the return of the disputed territories to federal control, has been on a tour of regional countries which share his hostility to Kurdish moves towards secession.
POOL/AFP / Alex Brandon
Iraqi Prime Minister Haider al-Abadi, whose domestic prestige has been sharply boosted by the return of territories disputed with the Kurds to federal control, meets US Secretary of State in Baghdad on October 23, 2017
He also held talks in Baghdad on Monday with US Secretary of State Rex Tillerson.
On Wednesday, he was due in Ankara for talks with Turkish leaders, who are particularly opposed to any talk of Kurdish separatism having fought a more than three-decade long insurgency among its own Kurdish minority, the region's largest.
Iraq's border with Turkey is currently all in Kurdish hands and Abadi has said that top of the agenda of his talks will be his demand that the federal government retake control of border crossings.
Among regional powers, only Israel backs Kurdish ambitions — something of a poisoned blessing.
Prime Minister Benjamin Netanyahu said on Tuesday that Israel had "great sympathy" for Kurdish aspirations and that the world should concern itself with their wellbeing.