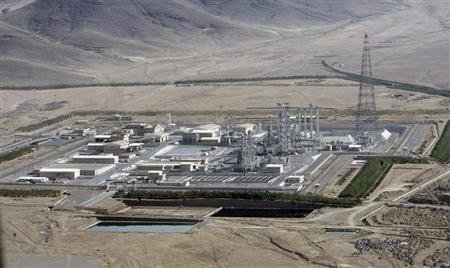 Iran is "busy redesigning" a planned research reactor to sharply cut its potential output of plutonium – a potential nuclear bomb fuel, a senior Iranian official said in comments that seemed to address a key dispute in negotiations with world powers.
The future of the Arak plant is among several issues that negotiators from Iran and six world powers need to resolve if they are to reach a deal by late July on curbing the country's nuclear program in exchange for an end to sanctions.
The West is worried that Arak, once operational, could provide a supply of plutonium – one of two materials, along with highly enriched uranium, that can trigger a nuclear explosion.
Iran says the 40-megawatt Arak reactor is intended to produce isotopes for cancer and other medical treatments. It agreed to halt installation work at Arak under a six-month interim deal struck with the powers last November that was geared to buy time for negotiations on a comprehensive accord.
After the latest round of talks in Vienna in May, a diplomat from one of the powers said Iran had appeared to row back on its previous openness to address Western fears about the nuclear weapons potential of Arak. Iran has since dismissed as "ridiculous" one mooted solution to such worries.
But the head of Iran's atomic energy organization, Ali Akbar Salehi, appeared to send a more conciliatory signal in comments to the official IRNA news agency late on Wednesday.
The amount of plutonium the reactor will be able to yield will be reduced to less than 1 kg (2.2 pounds) from 9-10 kg (20-22 pounds) annually in its original design, he said. Western experts say 9-10 kg would be enough for 1-2 nuclear bombs and that Arak's capacity should be scaled back.
"We are currently busy redesigning that reactor to arrange for that alteration," Salehi was quoted by IRNA as saying.
After talks with senior US officials earlier this week, Iran questioned whether the July 20 deadline for a permanent settlement with the powers was feasible. If not, Tehran said the negotiations could be extended for six months.