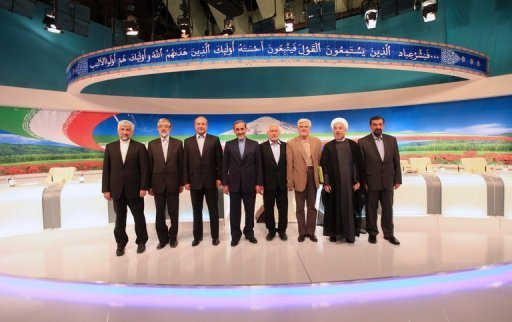 The eight candidates standing for president this month may differ on several issues, but when it comes to Iran's nuclear drive they are united in pursuing what they see as its peaceful atomic ambitions.
Whoever is elected president on June 14 to succeed Mahmoud Ahmadinejad, the Islamic republic is unlikely to alter the course of its controversial programme of uranium enrichment.
Supreme leader Ayatollah Ali Khamenei takes the key decisions in Iran, including on the nuclear issue.
Western powers believe Iran's nuclear activities may have a covert military purpose, but Tehran denies this, saying they are entirely peaceful.
"Definitely the result of the presidential election will not have any influence on the nuclear issue," the country's atomic chief Fereydoun Abbasi Davani has said.
The presidential hopefuls — including the frontrunner, Iran's nuclear negotiator Saeed Jalili — have all insisted that the nuclear project will proceed.
"Regardless of who is elected president in June, uranium enrichment activities will be pursued without fear against the enemy," Jalili said.
"The president must demonstrate this in a practical manner to the supreme leader," Jalili, who has been negotiating with world powers on the issue since October 2007, said on his campaign website.
Neither the United States nor Iran's regional arch-rival Israel has ruled out taking military action against Iranian atomic facilities over fears that they mask a secret nuclear drive, despite the denials.
The nuclear controversy peaked under Ahmadinejad's two presidential terms, with several rounds of United Nations sanctions and punitive measures by the United States and European Union imposed on Iran.
Since 2003, Tehran has been engaged in talks with not only UN watchdog the International Atomic Energy Agency (IAEA) but also with world powers to try to resolve the issue.
Tehran maintains that as a member of the nuclear Non-Proliferation Treaty (NPT) it is within its rights to run a nuclear programme to generate electricity and for medical purposes.
Khamenei and other senior officials have repeatedly said that making, owning or using atomic weapons is "haram" — forbidden under Islam.
But such declarations have so far failed to convince world powers whose sanctions are biting down hard on Iran's oil-dependent economy.
Sanctions have devalued the Iranian rial by around 70 percent and sent inflation soaring above 30 percent, economic woes that formed the crux of a Friday televised presidential debate between the candidates.
None of them appeared to have any clear solution.
On Friday, US Secretary of State John Kerry said the election would be unlikely to change Tehran's nuclear policy.
"I do not have high expectations that the election is going to change the fundamental calculus of Iran," he told reporters.
"So we will continue to pursue… every effort to have a peaceful resolution, but Iran needs to understand that the clock is ticking."
Presidential candidate and former foreign minister Ali Akbar Velayati believes the controversy can be resolved "without giving up nuclear technology".
"The supreme leader said he is committed to keeping nuclear technology, and whoever becomes president should carry out this policy," said Velayati, who advises Khamenei on international affairs.
Another candidate, Hassan Rowhani who was chief nuclear negotiator under reformist ex-president Mohammad Khatami, has asserted that "enrichment is our legitimate right".
Conservative candidate and former head of the elite Revolutionary Guards Mohsen Rezai has talked of changing the way the nuclear talks with the West are held.
"We have to neutralise the sanctions, as so far the negotiations have led to the intensification of sanctions," said Rezai, who also stood for president in 2009.
Mohammad Baqer Qalibaf, the mayor of Tehran and a former national police chief who is also standing, has aired views similar to those of his presidential rivals on the nuclear issue.
"The nuclear issue is a national case which all governments proceed with," he said.
Like Kerry, analyst Alireza Nader of American think tank RAND Corporation does not expect much change in Tehran's nuclear policy.
"We should not expect much if any of them becomes the next president," he said.
But "(we have) to see if the economic pressure on Iran bears fruit," he said, adding that "there are still chances that Khamenei could be more flexible because of the pressure".