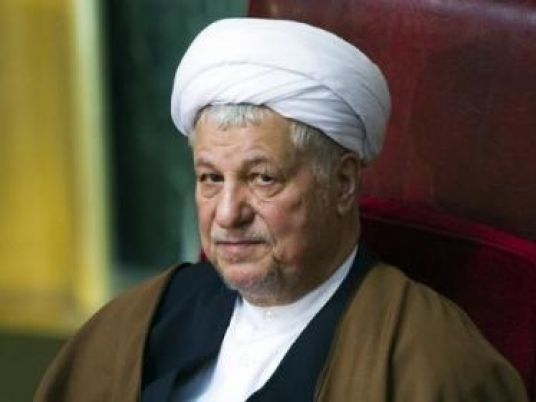 Iran considered pursuing a nuclear deterrent when it began its nuclear program in the 1980s, during an eight-year war with Iraq, a former president has been quoted as saying.
Ayatollah Akbar Hashemi Rafsanjani's comments comes at a sensitive moment, as Iran implements an agreement reached with world powers in July aimed at curbing its nuclear program, to allay Western fears it was trying to build an atomic bomb.
The International Atomic Energy Agency (IAEA), the United Nations nuclear watchdog, is investigating whether Iran's nuclear program ever had a military application. It is due to issue a report by December 15.
Throughout the negotiations, Iran insisted its program had only ever been for peaceful purposes.
In an interview with Iran's Nuclear Hope magazine this week, Rafsanjani suggested that officials were thinking about a deterrent capability when the nuclear program first began but it never took shape.
"When we first began, we were at war and we sought to have that possibility for the day that the enemy might use a nuclear weapon. That was the thinking. But it never became real," Rafsanjani said in the interview, which was carried by state news agency IRNA on Tuesday.
Iran fought a devastating eight-year war against Iraq in the 1980s. Iraqi dictator Saddam Hussein, the aggressor, had a nuclear program throughout the war. He never developed a nuclear weapon but used chemical weapons later in the war.
"We were still at war and Iraq had come close to enrichment before Israel destroyed it all," Rafsanjani said, referring to an Israeli air strike against Iraq's Osirak reactor in 1981.
"Our basic doctrine was always a peaceful nuclear application, but it never left our mind that if one day we should be threatened and it was imperative, we should be able to go down the other path," he added.
Rafsanjani was parliament speaker during the war and became president shortly after. The 80-year-old cleric now heads the Expediency Council, a powerful unelected body, and some observers consider him a candidate to become Supreme Leader after Ayatollah Ali Khamenei.
But he has been targeted by conservatives after clashing publicly with Khamenei. In June, the hardline judiciary upheld a ten-year prison sentence against his son, a businessman, on corruption and security charges.
Rafsanjani also said he had travelled to Pakistan to try to meet Abdul Qadeer Khan, the father of Pakistan's nuclear weapons program, who later helped North Korea to develop a bomb, but did not meet with him.
Khan was at the centre of the world's biggest nuclear proliferation scandal in 2004, when he confessed to selling nuclear secrets to Iran, North Korea and Libya.