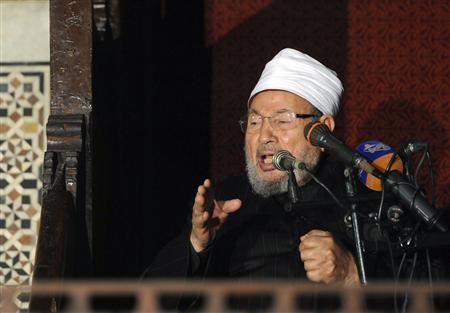 The INTERPOL website on Sunday removed the names of Youssef al-Qaradawi, Wajdi Ghoneim and 40 other Muslim Brotherhood leaders from the organisations Red Notice, a list to request the location of individuals pending extradition and provisionally arrest them.
The exclusion from Red Notice came even though the individuals have been wanted in Egypt since 2014 on charges of violence, inciting violence and belonging to a terrorist organisation.
The pages on Qaradawi and the leaders of the Muslim Brotherhood disappeared from the INTERPOL website, and there is only a page remaining on Mohamed Mahsoub, the Minister of State for the House of Representatives during the term of the ousted President Mohamed Morsi.
Interior Ministry security sources expressed surprise that Qaradawi had been removed from the Red Notice as the the Egyptian government wants them on charges relating to violence and terrorism.
The sources added that the relevant interior ministry bodies have began communication with INTERPOL to comprehend the reasons for the individuals being excluded from the list. The sources also said that they are trying to open a line of communication between both the interior and justice ministries with INTERPOL to have Qardawi included on the Red Notice again.
The sources continued that Egypt will continue to pursue the wanted leaders of the Muslim Brotherhood who they allege want the destruction of Egypt. The sources said that they will pursue the Brotherhood fugitives through legitimate channels in coordination with INTERPOL to activate the procedures of Red Notice to find their locations.
A senior judicial source in the Department of International Cooperation of the Attorney General's Office said that the department had not received until yesterday afternoon any notifications to remove the names of those wanted by Egypt from Red Notice. The source said that the administration is going to address INTERPOL to inquire about what has been reported about the removal of their names from the list.
Maj. Gen. Farouq al-Megrahi, the former assistant to the interior minister, said that the security services have an insistence on prosecuting all those wanted by the country, or fleeing to foreign countries, to bring them to justice.
Hani al-Aasar, a researcher specialized in security affairs at the Ahram Center for Political and Strategic Studies, said the removal of Brotherhood leaders from the wanted lists is a "symbolic" issue that reflects Qatar's growing influence and its effectiveness in international bodies and institutions. He added that this influence can be obtained by bribes or connections with other countries.