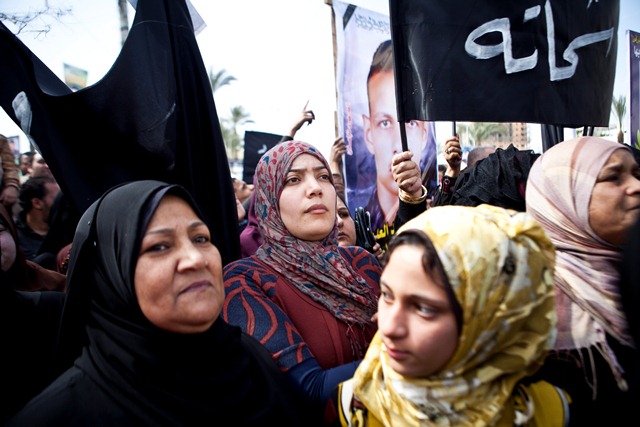 Though I've managed to overcome many of the challenges that face women in the patriarchal society in which we live, still there are a lot more," says Soheir Metwally, a poet and children's writer.
Metwally is 51, a mother of two boys both in their 20s, and makes a living by combining the money she earns from writing with a pension both she and her mother get since her father died. She's from Kafr al-Sheikh, but moved to Cairo by herself after her divorce.
Her father was a communist, jailed for some years under former President Gamal Abdel Nasser. Her illiterate mother supported the children by taking on embroidery commissions, becoming increasingly skillful and sought-after.
Metwally has a lot to say about the challenges facing women in Egypt.
"Socially, there is the daily living challenge whereby women are the weaker beings whose rights can very easily be preyed on," she says.
The subway is an obvious example and a social model for lots of other contexts, she explains.
"I have to guard my spot in the ticket queue, I have to guard my spot in the women's carriage — all through maneuvering, muscle-flexing, and even sometimes a bit of hand-to-hand combat! What's more, women who manage to travel or live alone are perceived as deviant," she says.
To her, women face blame for social problems throughout their lives.
"Blaming women for any social corruption starts in the family. If a child fails at school, the mother didn't care about his studies, if a child gets ill she didn't take care of their health, if the child becomes an addict she didn't keep an eye on him," she explains. "And so on, until we get to the point that women are also to blame for harassment."
Metwally likes being alone so she spends a lot of time at home now, tending her plants and looking after her dog. But she is part of a Sufi group that meets every Sunday, and has traveled widely in Egypt and to other Arab countries since she divorced. She recently gave up a lifelong smoking habit and joined a gym.
"Lots of women suffer from the intransigence and tyranny of men, yet don't have the option of leaving them. The way society looks at a divorced woman is unjust and degrading, so women end up trying to get remarried to escape the pressure without much thought about the new partner," she says.
In general, single women are seen in a bad way, Metwally asserts.
"Late to get married? She's an unattractive spinster. Divorced? Bad woman. Her husband dies? What a source of bad luck!" she says.
Last year, Metwally made her first film, a documentary about Al-Azhar Sheikh Emad Effat, who was killed by security forces in December 2011. It has been shown in various Egyptian cities.
"The truth is that man isn't free either in a society that oppresses men and women in different ways. I dream of a society where a woman lives as a human being with obvious stable, untouchable rights, with laws that actually protect her rather than laws that are just for show," she says.
This piece was originally published in Egypt Independent's weekly print edition.