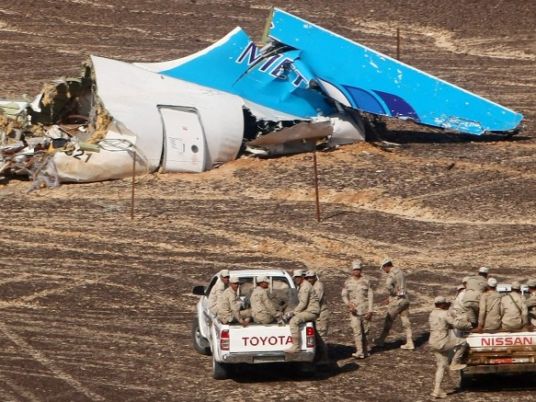 Experts from Russia and Germany are in Egypt to inspect the wreckage of a Russian passenger plane that crashed in Sinai last year killing all 224 people on board, the Egyptian-led investigating committee said on Monday.
Irish, American, and French experts will join the inspection team which will seek to pinpoint the area where the plane began to break up, the committee said in a statement.
"Representatives from Russia and Germany have arrived today to inspect the wreckage of the doomed Russian Metrojet plane which crashed over the Sinai Peninsula last October," the committee said.
Parts of the wreckage had been previously gathered and moved to Cairo International Airport. The experts will attempt to reconstruct the plane.
The Airbus A321, operated by Metrojet, had been returning Russian holiday makers from the Egyptian Red Sea resort of Sharm al-Sheikh to St Petersburg when it broke up over Sinai, killing all on board. Islamic State said it brought down the plane with a bomb smuggled inside a fizzy drink can.
Russia and Western governments quickly confirmed a bomb brought the plane down and Egyptian President Abdel Fattah al-Sisi later said the cause was terrorism. Britain and Russia suspended flights to Sharm al-Sheikh as a result, devastating Egyptian tourism, a lifeline of an already battered economy.
Russia is participating in the investigation as the airline's country of origin, Germany as the manufacturer's, Ireland because the plane was registered there, France because that is where it was designed, and the United States as the engine maker's country of origin.