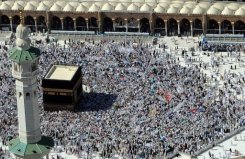 Under the auspices of the Custodian of the Two Holy Mosques King Salman Bin Abdul Aziz Al Saud, the Muslim World League will hold the International Conference Against Terrorism, during the period from Sunday 22nd to Wednesday 25th February.
The conference, which will be held in Makkah, will be attended by more than 400 scholars from all over the world.
The Secretary General of League Abdullah Bin Abdul Mohsin Al Turki said the conference comes under the theme of the fight against terrorism, including the serious incidents currently experienced by the world as a result of the terrorist acts that tarnished the image of Islam in the eyes of others.
Al Turki stressed the need to confront terrorism, describing the terrorist groups and their supporters as misguided groups who are not going right according to Islam.
He called on the international community to confront those who support terrorism, terrorist organizations, and incite sectarian sedition and unrest in the Muslim societies.