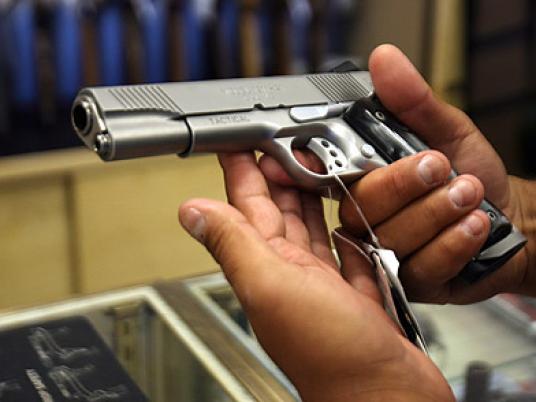 An Interior Ministry official said Thursday that gun use among police and security forces will increase "gradually."
Abdel Fattah Othman, the head of the ministry's general administration for media and public relations, said the Police Authority Law allows members of police to use arms in the defense of public buildings in a Facebook post.
Othman added that the ministry "will not back away from its role to protect state establishments and will confront [any attempts of vandalism]" or "be involved in attempts to creating division between the ministry and Egyptians."
The comments were made in response to questions over whether more police forces will be allowed to carry guns and use live ammunition, which many low-ranking officers have demanded during a nationwide strike.
Currently, most low-ranking offers do not carry guns.
Meanwhile, the Interior Minister Mohamed Ibrahim said Thursday that police forces have a "national apparatus to serve the people," adding that they cannot be influenced by political factions because they are governed by the ministry alone.
Othman said that Ibrahim is looking to implement some of the striking police forces' requests and that he understood the inherent challenges they face trying to enforce the law under difficult circumstances.
Also on Thursday, Ehab Fahmy, a spokesperson for the president's office, said securing the nation is the responsibility of the state and that the government is lending all its support to the Interior Ministry, according to state news agency MENA.
Fahmy added that the ongoing unrest requires the government to coordinate its efforts to restore confidence between the people and police.
Members of the police and security forces in Cairo and several other governorates called for strike action recently, demanding permission to use weapons in defense and no longer being forced to confront protesters
In response, Islamist group Jama'a al-Islamiyah's Assiut and Kafr al-Sheikh branches said they intend to set up committees to secure state buildings should police members continue to strike. The move was criticized by politicians and legal experts, who claim these committees could turn into militias.
Edited translation from Al-Masry Al-Youm