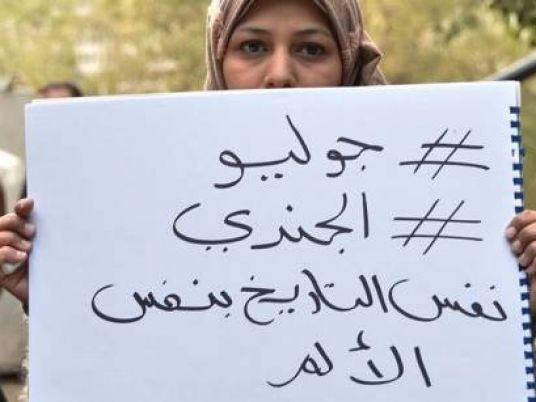 An Interior Ministry source has denied reports from Reuters that Italian PhD student Guilio Regeni was detained by police before he disappeared on January 25, Youm7 reports.
Youm7 quoted the source as saying that the Reuters article is based on rumors that aim to harm the reputation of Egypt's security services and institutions.
The police's role is to protect the foreign students, not to torture them, the source said, denying that the police would benefit from the torture of Regeni.
Mohamed Ibrahim, and information official with the National Security Agency, also denied any links between Regeni's death and the agency or the Interior Ministry. He denied Regeni's detention by the police ahead of his disappearance.
"An Italian student who was tortured and murdered in Egypt had been detained by police and then transferred to a compound run by Homeland Security the day he vanished," Reuters reported on Thursday.
"Regeni was picked up by plainclothes police near the Gamal Abdel Nasser metro station in Cairo on the evening of January 25," the article read, citing information provided by six anonymous intelligence and police sources.
The article added that another Egyptian man was picked up along with Regeni, but there was no information on whether the two were connected.
"Three sources gave his name but Reuters was unable to verify the man's identity," the newspaper said.
According to the alleged intelligence source cited by Reuters, the two men were taken to the Izbakiya police station.
A senior police official in the Izbakiya police station told Reuters that he recalled an Italian being brought in and said he would check the records to confirm the name. He later denied it was Regeni, saying that his name could not be found in the records.
One of the news agency's alleged intelligence sources said that Regeni was held at Izbakiya for 30 minutes before being transferred to Lazoughli prison, run by the National Security Agency.