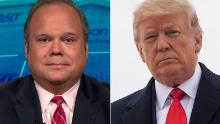 Washington (CNN)Not long after the National Archives acknowledged in February that it had retrieved 15 boxes of presidential records from former President Donald Trump's Mar-a-Lago residence in Florida, Trump began fielding calls from Tom Fitton, a prominent conservative activist.
Fitton, the longtime head of the legal activist group Judicial Watch, had a simple message for Trump — it was a mistake to give the records to the Archives, and his team should never have let the Archives "strong-arm" him into returning them, according to three sources familiar with the matter.
Those records belonged to Trump, Fitton argued, citing a 2012 court case involving his organization that he said gave the former President authority to do what he wanted with records from his own term in office.
The Judicial Watch president suggested to Trump that if the Archives came back, he should not give up any additional records, according to sources with knowledge of their conversations, which have not been previously reported.
While Trump continued to publicly tout his cooperation with the Archives, privately the former President began obsessing over Fitton's arguments, complaining to aides about the 15 boxes that were handed over and becoming increasingly convinced that he should have full control over records that remained at Mar-a-Lago, according to people with knowledge of his behavior at the time.
Trump even asked Fitton at one point to brief his attorneys, said a person familiar with the matter.
"The moment Tom got in the boss' ear, it was downhill from there," said a person close to the former President, who spoke on the condition of anonymity to discuss internal matters.