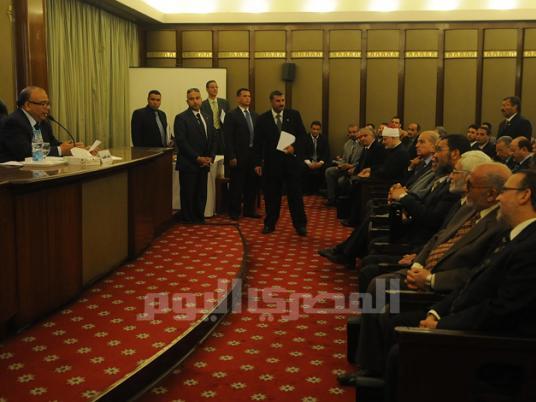 Political infighting dominated half of the general meeting of the Constituent Assembly on Tuesday, but eventually five of the assembly's sub-committees presented the results of their work.
First on the agenda, however, was the election of five new committee members to replace those who had resigned.
The charter of the assembly clearly states that, in case of such resignations, new members should be elected by the assembly from a list of 50 back-up members that had been previously agreed upon. But some demanded that the new members be chosen by consensus, apparently worried that an election would bring more Islamists.
Amr Moussa argued that the new members should include a Christian and members of the liberal current to "increase the popular acceptance and the credibility of the assembly."
The members who resigned include a Christian female professor, two judges and two members of the Freedom and Justice Party.
After a debate that went on for an hour, and included various accusations against the Muslim Brotherhood, the assembly decided to postpone the election indefinitely.
Getting down to business
Manal al-Tyby, the head of the Rights and Freedoms Committee, announced that the committee had completed more draft articles.
The right to health article drafted by the committee stipulates that the state has a duty to offer medical care to all citizens regardless of their economic capabilities. Hospitals would be prohibited from denying emergency health services to citizens for financial reasons.
In the article discussing the right to work, the committee drafted a maximum and minimum wage for the public sector and determined that the constitution protects the right to strike, which is to be regulated by law.
The Independent and Supervisory Bodies Committee presented articles to ensure the independence of state institutions such as the Central Auditing Authority and the Central Bank.
Regarding the media, the committee proposed a professional body to regulate private media and a national body to run state media. Some members criticized the article, saying that it will lead to state control over the media, similar to the current system.
As for the Defense and National Security Committee, which is handling the controversial section of the constitution determining the military's position, the committee's head Mohamed Mohey el-Din said that the committee is close to reaching an agreement "that will not upset any of the sides."
Mohey el-Din announced that the committee decided that the president will be the supreme commander of the armed forces while the minister of defense will be its general leader.
The committee proposed a national council, half civilian and half military, including the president, to attend to matters of national security.
The committee proposed to grant the president the power to declare war, with the consent of the national council and the parliament. Some members disagreed sharply with these proposals.
Finally, the Ruling System Committee announced that it was leaning towards an arrangement that distributes powers between the president and the cabinet.