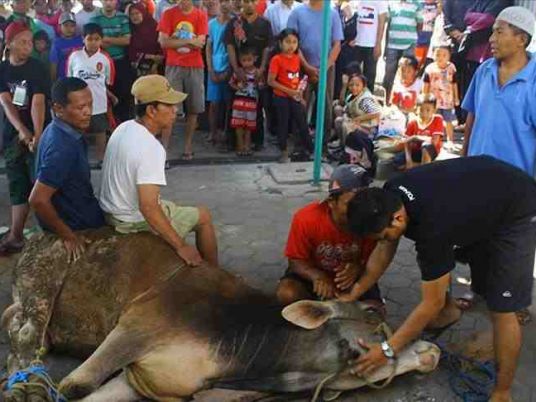 Indonesians from all walks of life set aside their economic woes to pull together for the spirit of Eid Al-Adha on Thursday, with donations down as mosques continue to be hit by rising food prices.
As hundreds of people gathered for the day of sacrifice — where people hold prayers and slaughter livestock to comply with God's will — Mosque caretaker Muhammad Solih told Anadolu Agency the number of animals donated for slaughter was down this year.
"In my neighborhood, the sacrifice is not as much as last year. Maybe because the price of cattle is [now] expensive," said Solih, who works at the Mambaul Quran mosque in East Java.
Indonesia is experiencing its worst economic slowdown since 2009, which has forced President Joko Widodo to backtrack on his get-tough tax campaign and issue a stimulus package aimed at encouraging consumer spending, bringing in more investment, and supporting a currency at 17-year lows.
In recent months, people have struggled to cope with food price volatility due to increases in the price of meat and food, and the vanishing from shelves of previously common items.
Wearing their best clothes, Indonesians flocked to the mosque and a nearby field for morning prayer Thursday, after which, some of the men stepped forward to slaughter cattle from the local neighborhood.
They then divided the meat among those in need, sometimes as much as 3 kilograms (6.6 pounds) per person.
Maryam — many Indonesians use only one name — told Anadolu Agency that she was extremely grateful to receive the beef, as she had not eaten such luxuries for around two months.
"It's a blessing from God. If it were not for Eid, I would probably not be able to eat meat again this month," said Maryam, beaming from inside her black hijab.
Once the meat is carved, a local housewife cooks some of it in a thick peanut "Satay" sauce, while other cuts go into "Rendang" — a dish made by simmering beef for hours in coconut milk and spices until the liquid has evaporated.
Outside of the capital, around 1,000 Rohingya Muslims — who have been sheltered in emergency accommodation in Aceh on northern Sumatra since arriving on Indonesian shores in the aftermath of the Southeast Asian boat people crisis in May — also tucked into the delicious dishes of sacrificial meat.
"There are 41 cows that had been donated by various local and international organizations, and also from foreign goverments," the President of the National Committee for Rohingya Solidarity, Syuhelmaidi Syukur, told Anadolu Agency.
Indonesia has agreed to accommodate Rohingya refugees for one year, until they are transferred to a third country.
In addition to the Rohingya, those who live around the shelters who have helped those fleeing persecution in Myanmar will also receive meat, along with those rehoused in North Sumatra as Mount Sinabung continues to threaten to erupt.
Marzuqi Usman — a preacher at Lautze mosque in Jakarta — underlined Thursday that the holiday of Eid al-Adha is about sharing the wealth with those in need.
"In the wealth of the rich, there are rights of the poor," Antara news reported him as saying. "Positions and treasures are only the deposit. At a time when death claims, then it will all come back to God."