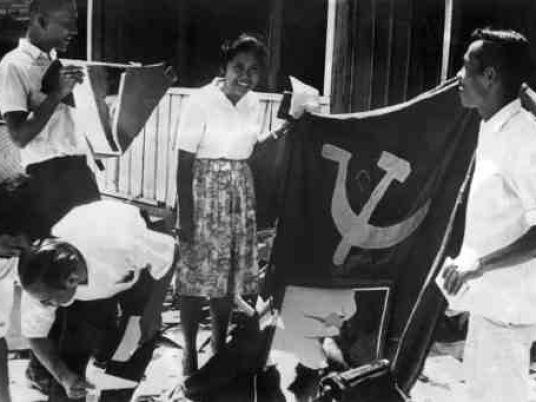 A major literary festival in Indonesia was forced to cancel events related to a 1960s anti-communist purge, the organizers said Sunday, after authorities threatened to revoke its operating permit.
Five programs, including discussion panels, a book launch and film screening were scrapped from the annual Ubud Readers and Writers Festival, which will kick off Wednesday on the resort island of Bali, a festival spokesman Hanna Nabila told AFP.
"The authorities had refused to grant us permits to hold those programs without giving reasons. We are very disappointed but also worried that we might be forced to call off the entire festival if we proceed," she added.
A statement on the festival website said the cancellations came "after increased scrutiny from local authorities" and that the organizers had been involved in "extensive negotiations".
"The Festival…was advised that should certain sessions proceed, it would run the risk of the entire Festival being cancelled," the statement said.
This month marks 50 years of one of the worst mass killings of the 20th century.
At least 500,000 people died in the killings across the archipelago that started after General Suharto put down a coup on October 1, 1965, that the authorities blamed on communists.
Security forces supported local groups in conducting the massacre over several months, with many suspected of even weak links to Indonesia's communist party killed, and hundreds of thousand of others imprisoned, some for years.
Suharto took power after the failed coup and ruled Indonesia with an iron fist for 32 years. The necessity of the killings to rid the country of the communist threat became part of the official narrative and the perpetrators were left unpunished.
Amnesty International last month urged Indonesia to do more to provide justice for victims and their families.