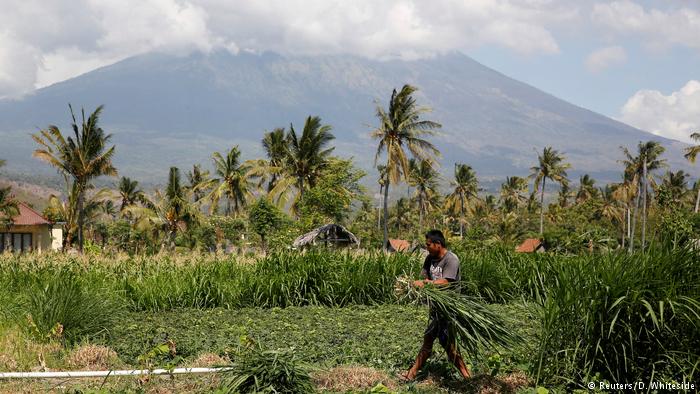 More than half of the people who have fled from a rumbling volcano on the Indonesian island of Bali have been told to return home.
Nearly 145,000 people have fled the shaking Mount Agung on the resort island, which has been grumbling since August. Eight days ago the government issued the highest possible alert level, fearing the mountain could erupt for the first time since 1963.
But officials said only about 70,000 people living within 5.5 miles (9 km) of the active volcano are potentially in danger, and should stay in temporary shelters or with relatives outside the danger zone.
"There is no reason for people who live in the safe zone to evacuate. They need to go back to their villages because they will become a burden," Bali's governor I Made Mangku Pastika said.
People carry their offerings to pray at a Temple in Bali
Sutopo Purwo Nugroho, a spokesman for the national disaster mitigation agency agreed.
"Only people from 27 villages must evacuate. The rest can go home," he said. "They can either go home independently or with the help of the government."
Meanwhile, volunteers are battling to save tens of thousands of animals left at the mercy of the rumbling crater, making perilous trips into the red evacuation zone to relocate them.
"I'm really worried because all of us that work together to rescue the animals don't know when the eruption will be," said Vio Verandhini, from the Jakarta Animal Aid Network. "Earthquakes happen every day, maybe every hour."
Indonesian President Joko Widodo greets villagers at an evacuation center on the island of Bali
Farm animals and wild monkeys
Hundreds of tremors triggered by the volcano shake the island daily. A few measure 2-3 on the Richter scale and are strong enough to rattle windows and move furniture.
The animals have been relocated to shelters where they are fed and cared for and the owners are encouraged to visit as often as possible to ensure their upkeep.
Most of the animals being evacuated are farm animals, including cows — 10,000 of which have already been evacuated, with another 20,000 in need of being moved. Some farmers have refused to leave without their livestock.
The coordinator of a government rescue team, Natakusuma, who goes by one name, said some farmers are sleeping at evacuation centers but returning to tend to their cattle during the day.
"Emotionally, it's really hard for the farmers to part with their cattle, not only for economic reasons but also they care so much about the animals," he said. "Some insisted they stay in their village with their livestock even though their safety in is danger."
Pigs, chickens, dogs and wild monkeys are among the other animals rescuers are trying to help.
Indonesia sits on the Pacific "Ring of Fire" where tectonic plates collide, causing frequent seismic and volcanic activity.