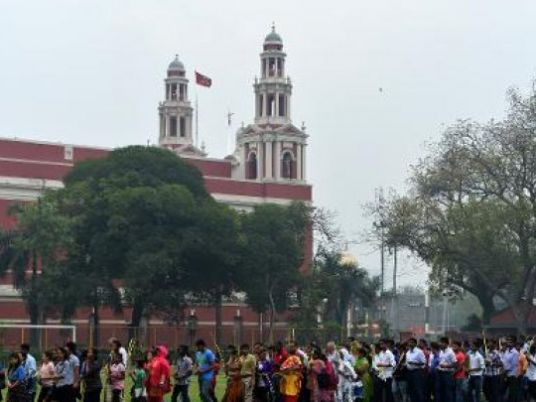 As they filed out of a cathedral in the Indian capital on Palm Sunday, worshippers expressed fear and dismay over a string of attacks on churches and a school along with the rape of an elderly nun.
Christians have long lived in relative harmony in the world's biggest democracy with Muslims, Buddhists and other minorities as well as Hindus who form the bulk of the country's 1.2 billion-strong population.
But the incidents of arson and vandalism have rattled the community and exposed fresh fault lines in religiously diverse India. The rape of the nun in West Bengal state last month, when a gang of robbers broke into her school, has only compounded the concern.
"I feel very afraid. Before I come to the church I just look right, left and everything," Cyril Samion told AFP outside Sacred Heart Cathedral in central New Delhi.
In the days leading up to Easter, worshippers said they were praying for those responsible for the attacks, which have occurred mostly in the capital.
"A holy place where people come to pray should never be attacked in the first place," Anthony Velangani said outside the cathedral.
"And that's why we feel very sad about it. It's pointless blaming anybody about it. We pray to God so that God gives some good sense to the people who are behind this."
Priests have blamed the attacks on institutions on hardliners, whom they say have felt emboldened since Hindu nationalist Prime Minister Narendra Modi stormed to power at elections last May.
Father Maria Susai, pastor at the cathedral, said the attacks were part of a campaign by groups such as the influential Hindu group Rashtriya Swayamsevak Sangh (RSS) "to marginalise minorities in India".
The RSS has denied any role, but its chief Mohan Bhagwat sparked protest in February when he said Mother Teresa's work for the poor was motivated by a desire to convert Indians to Christianity.
Modi, who himself spent years in the RSS, recently promised to crack down on religious violence and ensure freedom of worship for all faiths, after being heavily criticised for failing to speak out earlier.
But Susai said Modi's government was not doing enough to ensure that all citizens, not just the Hindu majority, felt safe.
"This is the darkest period in Indian politics," Susai told AFP.
– Mass conversions –
Tensions between Christians, who account for 2.3 percent of the population, and Hindus have erupted sporadically over the years, including in the eastern state of Orissa.
Anti-Christian riots there in 2008 left more than 100 people dead, according to Christian groups, after missionaries were accused of killing a Hindu holy man.
Groups like the RSS have also accused missionaries of targeting tribal peoples and other poor groups with the aim of conversion, claims denied by the clergy.
But the majority of Christians have lived peacefully in India, concentrated for years in the northeast, Orissa and in the southern states of Kerala and Goa.
Since December, a string of churches and a school have reported incidents of arson, vandalism and burglary including of ceremonial items, sparking anger and a protest in Delhi that saw police pull nuns into buses as they tried to march on parliament.
But the rape of the nun at her convent school in March sent shockwaves through the Christian community, although no one is suggesting that religious hardliners were behind the attack. Six people have been arrested.
The incidents also followed a spate of mass "re-conversions" of Christians and Muslims to Hinduism in the country that has ignited uproar in parliament.
US President Barack Obama warned on a visit to New Delhi in January that India's future success was dependent on avoiding splintering along religious lines.
Political scientist Gurpreet Mahajan said Modi needed to work harder to shed a perception among hardliners, including those within his own party, that his election win was a victory for "Hindutva" or Hindu nationalism.
"He needs to come out forcibly against it (the attacks)," Mahajan, from Delhi's Jawaharlal Nehru University, told AFP.
Speaking to spiritual leaders last weekend, Modi's cabinet colleague, Home Minister Rajnath Singh, urged all parties to work together to ensure religious harmony.
But some Christians remained sceptical, saying hardliners were simply "not listening to their leaders".
"Every condemnation is followed by an attack on a church or a poisonous statement," said Philip Mathew outside the cathedral.