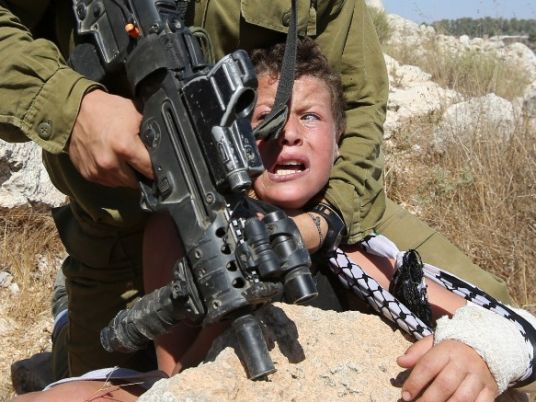 Images of an armed Israeli soldier trying to arrest an 11-year-old Palestinian boy with a broken arm in the West Bank went viral on social media over the weekend.
The images show the soldier putting a headlock on the child while women pull on the soldier's back, trying to free the boy.
The altercation took place during a weekly protest Friday organized by Palestinian activists against settlement construction in the village of Nabi Saleh in the West Bank.
Palestinian women beating an Israeli soldier as he tried 2arrest their minor boy relative in the #Westbank #Palestine pic.twitter.com/Amkh3y7cgb

— Mohamed Hemish (@MohamedHemish) August 28, 2015
Bassem Tamimi, the boy's father, told CNN that he was present at the time.
"This is very difficult for any father or mother to see their son or daughter in that way, being violently attacked," said Tamimi.
Tamimi is a Palestinian activist and was one of the organizers of the demonstration.
Israeli army: Actions were justified
The Israeli army defended its actions, saying that people in the crowd had thrown rocks at the soldiers.
"The forces decided to detain one of the Palestinians identified hurling rocks," an Israeli army spokeswoman told CNN.
The army said the commander at the scene halted the arrest to avoid an escalation of the situation.
Tamimi told CNN that his wife and daughter were trying to free his son and clashed with the soldier, as the video appeared to show.
Some residents of Nabi Saleh have been staging protests for years against Israel's settlement policy.
Sometimes the protests turn violent, with Palestinian youths throwing stones and Israeli soldiers firing tear gas and rubber bullets.