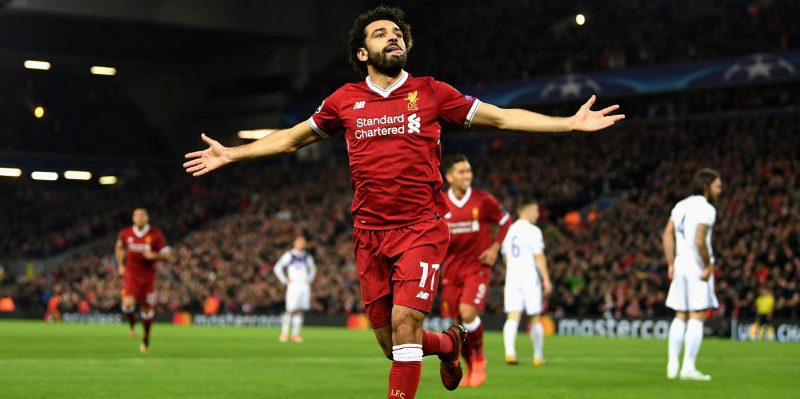 Liverpool sensation Mohamed Salah declared he is fighting to win the prestigious Golden Shoe Award, after being named Top Scorer of the Top Five Leagues, adding that he hopes to continue to smash records during his first season with Liverpool.
Salah told Marca, a Spanish sports newspaper, "I'm happy with the support my teammates give me during matches to try and reach this title, especially since Harry Kane is closing on me as the top scorer of the Premier League. This support is more important than the title itself. I have never experienced such an atmosphere before. If anyone has been following closely our last two matches, you will notice all the players are trying to pass me the ball to help me score. I promise I will not let them down and I will win that title."
On the competition he has for the Golden Shoe award, Salah added, "the competition with Harry Kane, Lionel Messi, Ronaldo and Robert Lewandowski is extremely difficult and keeps me on the edge all the time."
"After all," he continued, "they are the biggest stars in the world."
Salah went on to say that despite the award being awarded to a single player, it plays a role in improving the club's name, as well as gaining points for the club in both the Champions League and the Premier League.
He added that the Liverpool's strategy is excellent and very difficult to counter.
Salah admitted that the love of the audience is what keeps him going, "the audience's happiness is the best, I feel like they want me to win, and I will for them."
Despite breaking more than 27 records in the Premier League and Champions League, Salah says he will not be satisfied until he has broken every record there is. As for making it to the shortlist for the prestigious Ballon d'Or award, he said, "I will fight to win the award, but I won't be talking about it right now. Right now we are focused on winning the UEFA Champions League. I also aim to provide a good performance with Egypt in the World Cup, these are the steps towards me winning the Player of the Year award."
"I was able to demonstrate to Chelsea that I did not get a proper chance to prove myself for them. This is evident in the number of games I played with the team. When Liverpool offered me a chance to return to the Premier League I agreed immediately to prove that some people underestimated me."
Salah is the top scorer in the top five leagues in Europe with 30 league goals, overtaking Lionel Messi, who hat hit 29 strikes. In third place comes Robert Lewandowski, with 27 goals followed by  Harry Kane with 26 goals. Kane is also competing with Salah as top Premier League Scorer.