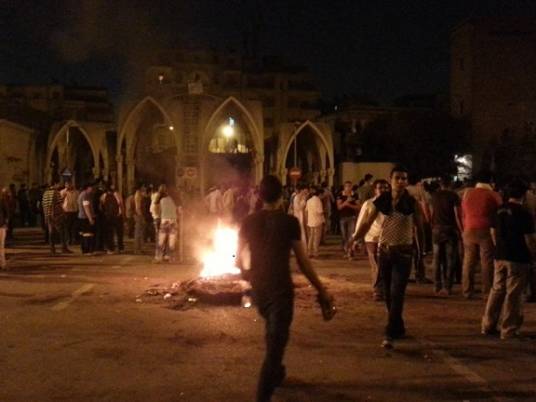 Interior Minister Mohamed Ibrahim on Wednesday visited Pope Tawadros II at St. Mark's Coptic Orthodox Cathedral in Abbasseya to offer his condolences for the victims of the Khosous clashes.
The deadly 5 April clashes between Muslims and Christians in Khosous, Qalyubiya Governorate, and the clashes followed it around the Cathedral in Abbasiya on 6 April claimed seven lives.
The minister praised the church for spreading the values ​​of tolerance and unity among the Egyptian people, and stressed the importance of collaboration with the police to restore stability in the country.
"The police are committed to justice, the rule of law, the principles of citizenship and the respect for human rights," Ibrahim said.
The pope also received a delegation of the Supreme Council of the Armed Forces that went to offer condolences on behalf of the defense minister.
A fact-finding mission tasked with investigating the attack on the cathedral has not identified any of the perpetrators yet.
In a report released Tuesday, members of the mission said no one has been charged with inciting violence during the Abbasseya clashes earlier this month, despite the fact that 45 cases have been filed with the Public Prosecution.
The report included the testimony of Makari Habib, Pope Tawadros II's secretary, who accused the Interior Ministry of being "slow" in securing the cathedral.
Edited translation from Al-Masry Al-Youm