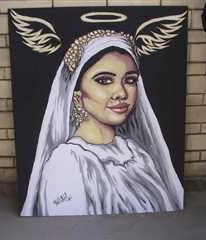 Ashraf Abdel Qader, the father of Naira Ashraf, the Mansoura University student who was killed by her colleague, said that he was "buying breakfast for his daughter when he learned of her slaughter."
"When I arrived… they told me my daughter was in the morgue and they did not allow me to see her and told me that I would not bear the scene," he added, in exclusive statements to Al-Masry Al-Youm, on Wednesday.
He continued: "I am shocked about what the accused did to my daughter because people say that he is one of the outstanding students in the university.
So a moral question has come out of this case: when you love someone, do you marry her or do you kill her?"
"What the accused did to my daughter is tyrannical, and I cannot yet accept what has happened. I want to attend the execution of the accused so this can be an example and warning to whoever may think about harming or killing other people. I wish to see him on the gallows in the place where he killed my daughter," Ashraf said.
In a terrifying incident, Mansoura University and students witnessed the actions of the accused carrying a knife, and slaughtering his female colleague in front of the gate of the Faculty of Arts.
Eyewitnesses reported that the young man, a third-year Arts student stabbed the young lady in front of the gate, as the young lady was on her way to the bus stop, heading home to al-Mahalla, in Gharbeya governorate, where she lives.
When people tried to catch him, he slaughtered her with a knife to her neck.
Eventually, he was captured and controlled by security and the passerby.