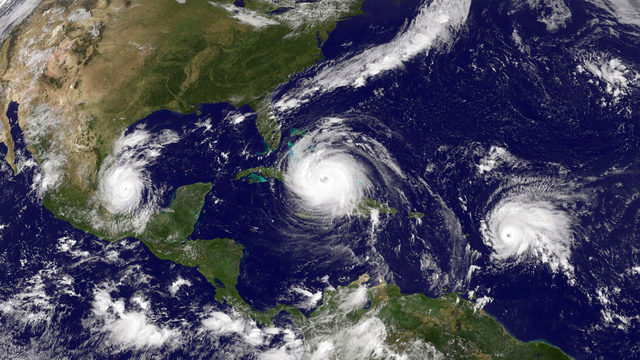 Hurricane Jose is expected to pass east of the North Carolina coast on Monday and remain off the US East Coast from Virginia to New England, while Tropical Storm Maria formed and is forecast to become a hurricane early next week, the US National Hurricane Center said on Saturday.
Maria could threaten several Caribbean islands, some of which were devastated by Hurricane Irma less than two weeks ago. It is expected to approach the Leeward Islands on Monday and become a hurricane around that time, the NHC said.
A hurricane watch is in effect for Antigua, Barbuda, St. Kitts, Nevis and Montserrat and France has also issued a hurricane watch for the island of Guadeloupe. A hurricane watch is typically issued 48 hours before the first occurrence of storm-force winds, NHC said.
Meanwhile, the NHC said the coastline from North Carolina to New England should monitor Hurricane Jose's progress and forecast that tropical storm watches may be needed for portions of that stretch during the next day or two.
"However, an increase in the size of the storm or a westward adjustment in the track forecast could bring tropical storm conditions closer to the Outer Banks" of North Carolina, the forecast said.
As a large cyclone, Jose could also affect the Virginia-to-New England area, especially if it deviates from its forecast track, the NHC said.
At 5 p.m. EDT (2100 GMT), the NHC said Hurricane Jose was moving northward at 6 miles per hour (106 kph), with maximum sustained winds of 80 miles per hour (130 kph).
The NHC said it was generating swells affecting Bermuda, the Bahamas, the northern coasts of Hispaniola and Puerto Rico, and much of the U.S. East Coast. It said these swells are likely to cause dangerous surf and life-threatening rip currents for several days in these areas.
The 2017 hurricane season in the Atlantic has been one of the most active in recent memory, generating the hugely powerful Irma that went on to lash Florida and Hurricane Harvey, which slammed into the Texas Gulf coast and caused deadly flooding in Houston.