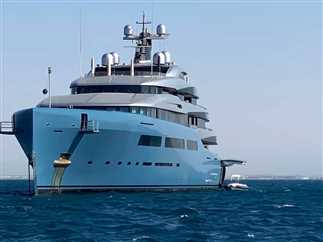 Hurghada seaport received the Aviva yacht which is one of the most expensive tourist yachts in the world, owned by businessman and owner the English Tottenham club, Joe Lewis.
Aviva reached the waters of the Red Sea on Thursday, on a tourist visit to Gouna resort in Hurghada, coming from Thailand, with ten people on board.
The captain of Aviva praised the good reception and treatment of the Egyptian authorities and the speedy completion of the procedures, stressing that Egypt is one of the best countries that work to facilitate procedures to attract tourism in general and tourist yachts in particular.
He added he will send an official telegram of thanks to the Egyptian authorities, given the welcome, hospitality and good treatment the yacht received, as a special committee was formed to expedite the completion of the procedures at the port.
Red Sea Governor Amr Hanafy affirmed that he was keen on facilitating the completion of the procedures for the Aviva yacht and the people on board.
This comes within the framework of the government's plan to encourage yachting tourism in Egypt through a strategic plan, based on studying the procedures implemented for yachting tourism compared to competing countries.