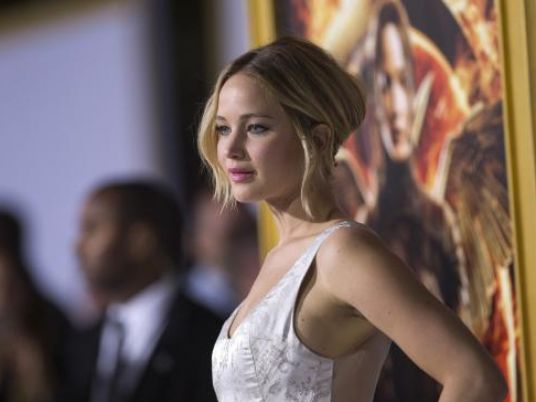 "The Hunger Games: Mockingjay, Part 1" tallied US$123 million in ticket sales to top weekend box office charts and score the year's biggest US opening, according to studio estimates.
The third installment of the blockbuster "Hunger Games" action movie series starring Jennifer Lawrence added a further $152 million at overseas box offices for a global opening weekend tally of $275 million, tracking firm Rentrak said.
"Mockingjay" took in $17 million at Thursday night showings for the year's best Thursday total, but the film fell short of industry forecasts for about $148 million through Sunday.
"This weekend will wind up down versus the same frame a year ago, when the previous 'Hunger Games' installment 'Catching Fire' led" with $158.1 million," noted Paul Dergarabedian, senior media analyst at tracking firm Rentrak.
The first "Hunger Games" took in $152.5 million on its opening weekend in 2012, according to Boxofficemojo.
Walt Disney's animated action film "Big Hero 6" was second, with ticket sales of $20.1 million for the three days from Friday through Sunday, pushing its three-week total to $135.7 million.
Director Christopher Nolan's space adventure "Interstellar" was third with $15.1 million at US and Canadian box offices. It has taken in $120.6 million since opening on 5 November.
In "Mockingjay," Lawrence plays Katniss Everdeen, the defiant young archer who becomes the face of a mass rebellion in a dystopian post-apocalyptic society.
Lionsgate, the studio behind "The Hunger Games" series, split author Suzanne Collins' final book in her science fiction trilogy into two movies, with the next set for release in 2015.
The latest chapter received "fresh" ratings from two-thirds of reviewers in aggregator site Rottentomatoes, while audiences gave the film an A-minus rating, according to CinemaScore.
Last weekend's top movie "Dumb and Dumber To" fell to fourth with $13.8 million in ticket sales. Director David Fincher's hit "Gone Girl" took in $2.8 million to round out the top five.
"Interstellar" was released by Paramount Pictures, a unit of Viacom. Universal Pictures, a unit of Comcast, distributed "Dumb and Dumber To."