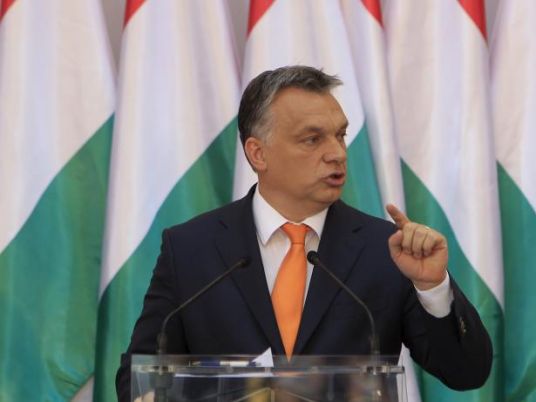 As part of a highly controversial anti-immigration policy, Hungary is planning to build a 175 km-long fence along its border with Serbia, seeking an alternative solution to the EU migrant crisis.
Hungarian Foreign Minister Péter Szijjártó said on Wednesday that his country "cannot afford to wait any longer" for the European Union to reach an agreement with regards to its migration policy, adding that preparations for the building of the four-meter-high wall would be completed within a week.
According to recent estimates from the Hungarian Office of Immigration and Nationality (BAH), as many as 57,000 people illegally entered Hungary in the first five months of 2015, making it one of the main points of entry into the Schengen area. Additionally, Hungary has the second highest number of refugees per capita in the EU, after Sweden.
Though many refugees arriving in Hungary are fleeing from wars in Syria, Iraq and Afghanistan, a significant number of them are economic migrants from poverty-stricken Kosovo, where the unemployment rate has reached 35.1 percent, 55.3 percent among the youth. Given that Serbia, which is not a member of the EU, is not an attractive destination for most migrants, it remains a transit country.
Hungary's controversial decision may come in an effort to attract voters from the far-right Jobbik party, which has gained many of the governing party's voters. However, its primary goal appears to be to demonstrate Hungary's dissatisfaction with the EU migration policy, criticized by Prime Minister Viktor Orbán, who recently said that the proposal to distribute migrants throughout all EU member states "borders on insanity".
In the last few months, the government has stepped up its anti-immigration rhetoric, launching a "national consultation on immigration and terrorism," widely condemned throughout Europe, which includes questions such as "Do you agree that mistaken immigration policies contribute to the spread of terrorism?"
The recently-announced plan also drew strong condemnation from abroad, especially given that it evokes memories of Cold War-era political and economical segregation. Natasha Bertaud, the European Commission's spokeswoman for justice and home affairs, referred explicitly to this matter, saying that "the commission does not promote the use of fences and encourages member states to use alternative measures. We have only recently taken down walls in Europe. We should not be putting them up."
In the same context, the EU border agency Frontex criticized the project, calling it a poor approach to tackling the problem. Aleksandar Vucic, the Serbian prime minister, stated that "nobody builds walls in a modern world, and particularly not in Europe." During his visit to Oslo, he said he was "surprised and shocked" by the plan, adding that he will discuss this decision with his Hungarian colleagues.
The UN Refugee Agency's response has been equally negative. The organization's regional spokesperson Kitty McKinsey criticized the idea, saying that "the right to seek asylum is an inalienable human right" and that erecting a fence "would place too many barriers to this right."
According to the Hungarian Foreign Minister, however, the plan would not violate any international agreements, as similar solutions have been applied on the Greek-Turkish and the Bulgarian-Turkish borders.