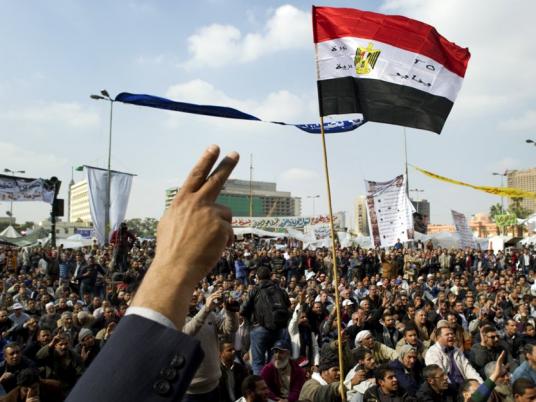 Hundreds of Egyptians arrived Tuesday evening to Tahrir Square in central Cairo, the cradle of the 25 January revolution, in preparation for celebrating the first anniversary of its beginning.
The square was completely closed to traffic at 9:30 pm, and tents were erected in the middle of it.
A stage, on which political activists are to deliver speeches and cite poems against the former regime, has been built near the main entrance to Mohamed Mahmoud Street.
On the other side of the square, members of the "Revolution Protection Committees," who said they came to celebrate, built another stage, but clashed with some of those present in the square.
In preparation to secure entrances to the square, Muslim Brotherhood members have gathered before the Egyptian Museum.
Egypt is expected to witness mass demonstrations on the anniversary of the beginning of the revolution that toppled former President Hosni Mubarak on 11 February 2011.
On 9 January, 54 political parties and movements called for country-wide protests on 25 January to demand a swift handover of power from the ruling military council to civilian authorities.
Other political forces, including the Jama'a al-Islamiya and the Salafi-oriented Nour Party, have announced their intention to gather in Tahrir Square on 25 January,
Mohsen Radi, a member of the Brotherhood's Freedom and Justice Party, said MPs will attend celebrations in the square to celebrate the revolution.
Ahmed Khalil, Nour Party spokesperson, said the party is not coming to celebrate but rather to demonstrate in favor of achieving the revolution's goals and against the killers of revolutionaries.
Al-Azhar Grand Sheikh Ahmed al-Tayyeb is to dispatch his advisor, Hassan al-Shafei, to deliver a speech on the occasion. He is expected to demand the handover of power to a civilian government, call for speeding up the trials of those who killed demonstrators, emphasize the need for a civil state. He is also expected to request equality, freedom of opinion and independence of the judiciary.
Translated from Al-Masry Al-Youm