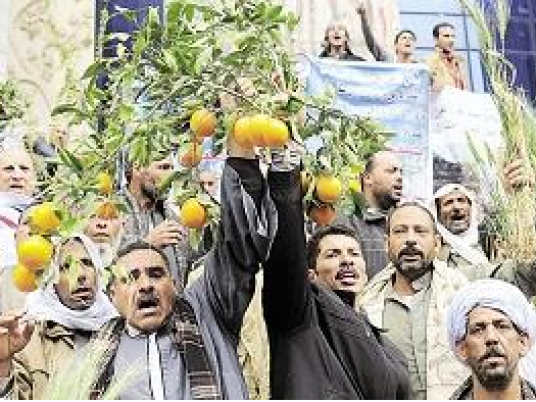 Hundreds of farmers from Sadat City in Monufiya staged a protest on Monday outside the Journalists Syndicate. They were objecting to the bulldozing of their lands by the city's local authorities and the Housing Ministry.
Farmers called on President Abdel Fattah al-Sisi to intervene and protect them and their lands.
The protesters carried a number of crops they cultivate like onion, corn, bananas and oranges and held up a banner that read "An Appeal".
"The peasants of Wadi al-Natrun and Sadat City are appealing to Mr. President: We are your children and are willing to pay the state's right in every way," the banner read.
"We appeal for rescue from the injustice and oppression of the Housing Ministry," it continued.
"We call on the state to protect us from the oppression of the Sadat City local authorities and the Housing Ministry," it added.
The farmers complained that the Housing Ministry destroyed the wells they used in cultivation, saying over 50,000 field workers may lose their jobs due to the practices of Sadat City authorities.
"Oh my home is ruined, they killed my crops and closed my home," "Oh Mehleb bey, why are you silent?", "Oh president, the farmer is appealing for rescue," chanted the farmers as they held up Egyptian flags and images of Sisi.
Edited translation from Al-Masry Al-Youm