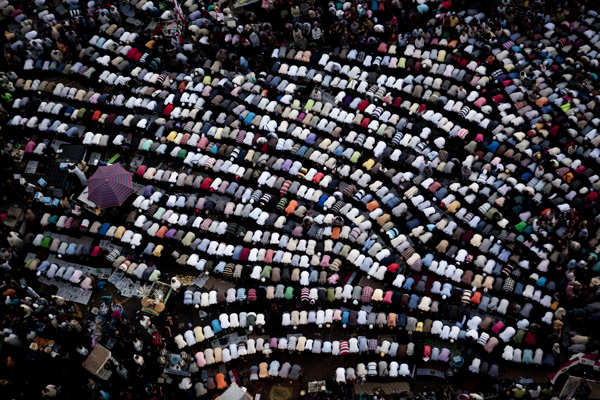 Hundreds of demonstrators continued a sit-in in Tahrir Square Saturday morning to demand the cancellation of the complementary Constitutional Declaration, and to protest the delay in announcing the presidential elections results.
Hundreds of thousands took part in a mass protest yesterday calling for "Legitimacy's Return."
The demonstration was called for by a number of political and revolutionary forces, and attended by the Muslim Brotherhood's Freedom and Justice Party, the Salafi-led Nour Party, the April 6 Youth Movement, the Revolutionary Socialists, and the Free Front for Peaceful Change.
Masrena Youth Movement has also announced that a sit-in will start in Mohamed Mahmoud Street, until both the complementary Constitutional Declaration and the decree granting military police and intelligence the right to arrest civilians are canceled. The movement also demanded that the Parliament not be dissolved until a referendum is held so the Egyptian people can have their say.
The Supreme Council of Armed Forces issued a statement Friday describing the Mulim Brotherhood's announcement of the run-off presidential election results before the official results are announced as "unjustified," and as a main reason for the division and confusion currently prevailing in the political arena.
The SCAF asserted that the complementary Constitutional Declaration, issued Sunday night, is "something necessary, imposed by the requirements of governing the country during this critical period."
The statement said "whatever is issued by the SCAF is governed by our understanding of the country's supreme benefit."
Meanwhile, Egyptians are waiting for the announcement of the country's first elected president, following the 25 January uprising. The Presidential Elections Commission is scheduled to hold an international press conference to announce the results of the presidential election.
Two candidates ran in the run-off, the Brotherhood's Mohamed Morsy and former Prime Minister Ahmed Shafiq.