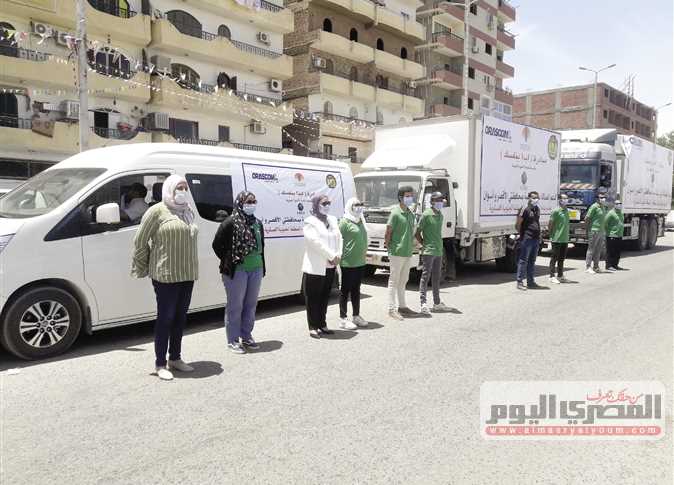 Egyptian initiative 'Ebdaa bi Nafsak' (Start With Yourself) organized a convoy to provide food and disinfection supplies to the people of Kom Ombo in Egypt's Aswan Governorate.
The supplies were delivered using a human chain of volunteers, and are meant to support families affected by the repercussions of the coronavirus pandemic.
The convoy also delivered bags containing face masks, chlorine, rubbing alcohol and soap to the Kom Ombo police station, for use in cleaning the building and to protect police personnel and visitors.
In addition, the initiative organized a campaign to provide disinfection services for pedestrians and drivers.
Initiative coordinator and head of the Egyptian Family Development Foundation Soheir el-Masry said that the convoy was part of a partnership with the Sawiris Foundation for Social Development, Orascom Construction, the Egyptian armed forces, and the Ministry of Social Solidarity.
The initiative, she said, is concerned with the social and humanitarian responsibility of community institutions.
She added that the convoy's goal was to reinforce the Egyptian government's efforts to contain the coronavirus crisis, to provide direct support to affected families, to promote community awareness, and to help apply disinfection and sterilization procedures in highly crowded places.
Executive Director of the Sawiris Foundation for Social Development Nora Salim said that supporting the "Start With Yourself" initiative is part of the Sawiris Foundation's mission to support the most marginalized and most negatively impacted groups in Egypt, in cooperation with the government, the private sector and civil society.
Director of Development for Orascom Construction Heba Iskandar said: "We will spare no effort to support the government's actions in combating the spread of coronavirus under these exceptional circumstances, and to address the virus' repercussions at the healthcare, economic and humanitarian levels."
She added that Orascom Construction will continue to provide assistance to families and individuals most affected by the crisis via projects and initiatives undertaken in cooperation with the Egyptian government.
Edited translation from Al-Masry Al-Youm