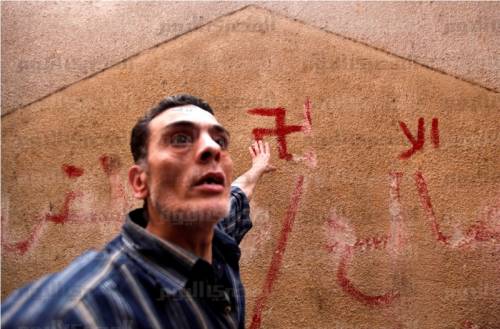 The National Council for Human Rights issued a report on Thursday regarding the sectarian violence that took place in the village of Khosous in Qalyubiya Governorate on Friday, leaving seven dead.
The violence erupted when young boys sprayed allegedly offensive graffiti on the walls of an Islamic studies institute, ultimately provoking armed clashes between Muslim and Coptic residents of the village.
The report accuses state bodies of being absent during the incident, particularly the Interior Ministry, whose negligence allowed the conflict to escalate into an episode of deadly sectarian strife, the council said.
The report points out that incidents of sectarian violence have become a pattern in many governorates, usually starting as a fight between two people that escalate into city-wide clashes.
The report also criticizes Sorial Younan, the pastor of the Khosous Church, for claiming that all churches in the neighborhood were set ablaze, whereas only the facade of one church was burned in the incident. The report adds that Younan falsely stated that the aggressors were all bearded and wearing short galabeyas, which did not align with the testimonies of eyewitnesses.
The Qalyubiya security director reportedly said that the police shouldn't be dragged into street fights as they would become easy targets, the report pointed out, adding that this is an indication that the Interior Ministry is unable to impose the rule of law in informal areas, and that all security forces deployed to the church were a mere cosmetic fix.
The report condemned the Coptic Iskandar family for bringing weapons into the fight, thus causing the incident to escalate into violence, as well as the neighborhood mosque for inciting Muslim residents to wage a holy war against Christians over its public address system. The report blamed the mosque's call for resulting in attacks on private property owned by the Iskandar family and other Coptic residents by masked men, as well as the killing of innocent bystanders in front of the church, including a 19-year-old man.
Edited translation from MENA