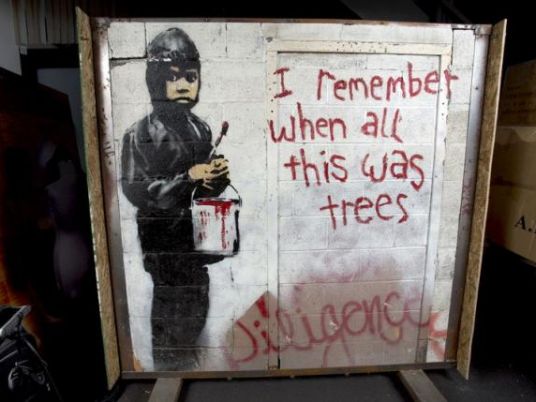 A large street mural painted on a derelict Detroit auto factory by elusive British artist Banksy is going up for auction in Beverly Hills and could fetch up to US$400,000 dollars for a local non-profit group, Julien's Auctions said on Wednesday.
The 7 feet by 7 feet mural (2.1 by 2.1 meters) called "I Remember When All This Was Trees," which was painted by Banksy on the wall of the crumbling Packard factory in Detroit in 2010, will be sold along with a second large mural the graffiti artist created in Bethlehem.
The Bethlehem work, called "Donkey Documents," depicts a donkey having its papers checked by an armed soldier and was one of a series of politically-aimed 2007 art works left by Banksy along a concrete barrier dividing the West Bank from Israel.
Julien's said the 7 feet high by 10 1/2 feet long (2.1 by 3.2 meters) Bethlehem mural could fetch up to $600,000 at the September 30 auction, although a spokesman said the final price on both works could be much higher.
"These are considered conservative estimates. These pieces could fetch more. It's hard to say," Michael Doyle, director of business development at Julien's told Reuters. A Banksy mural painted on a shop in London sold at a private auction for $1.1 million in 2013.
Banksy, the pseudonym of a graffiti artist who first emerged in Bristol, England, hides his identity and real name. His often subversive, satirical works have become highly sought after by collectors even as their removal from their original sites has grown controversial.
In April, Palestinian police confiscated a bombed-out doorway bearing a recent Banksy painting after the original owner complained he had been swindled into selling it to a local man for $175.
Citing confidentiality, Doyle declined to give details on the Bethlehem mural but said Julien's had been approached by the owners after the work was removed from its original location. The mural was posted by Banksy on his website shortly after its creation, which is seen as a mark of authenticity
The Detroit mural is owned by the city's small non-profit 555 Gallery and is being sold to raise funds for community arts programs. It depicts a young boy wearing a hoodie with a red paint can and a brush and bears rare finger prints in red paint that are believed to have been left by Banksy.