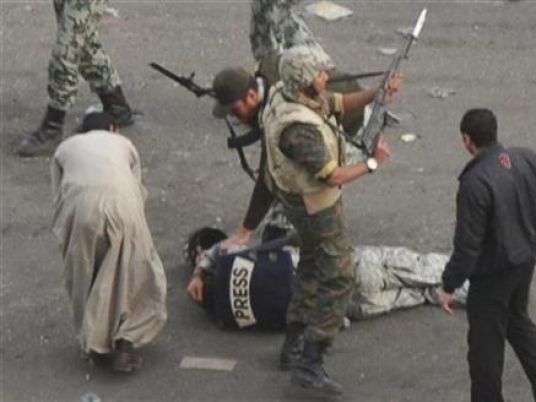 Despite yesterday's release of documentary filmmaker Hossam Meneai, Egypt remains tough place for journalists.
The events surrounding Meneai's arrest and detention are a harsh reminder of the perils of reporting in a country that has severely restricted the freedom of the press and still aims to control how it is portrayed in the media.
Meneai was taken from his apartment by secret police on 22 January and held without charges for three and a half days, until finally he was accused of "spreading false news that endangers public safety."
While in custody, he was subject to frequent beatings by authorities, handcuffed to a chair for 36 hours, threatened with a gun to his head and even denied access to food throughout his initial week in jail. Though his friends, family and lawyer delivered food to the Dokki police station for Meneai throughout his detention, it was confiscated and presumably eaten by authorities.
The exact reason for Meneai's arrest remains unclear, as his charges of spreading false news do not appear to match the circumstances of his initial arrest. Meneai says he was questioned mainly about his hometown in Sinai and his freelance documentary filmmaking. Prosecution, however, did not mention Sinai in the charges, and instead faulted him with posessing videos on his laptop from the Rabaa al-Adaweya dispersal, which were downloaded from YouTube and not even a result of his own filming.
Meanwhile, other journalists have not been as fortunate as Meneai, as many still remain in detention or even have been subject to attacks.
The Committee to Protect Journalists (CPJ), in its annual report released on 30 December 2013, rated Egypt the third most dangerous county in the world for journalists, following Syria and Iraq. Human rights groups are worried by testimonies of foreign journalists who say they have been attacked by mobs or even security forces.
"Police asked me to choose between the four-finger symbol (referring to Muslim Brotherhood support) or victory sign (referring to General Sisi)," said Colombian photojournalist Felipe Camacho, who was beaten and taken to the Dokki police station while covering the anti-military protests at the third anniversary of the 25 January revolution in Mostafa Mahmoud square.
"I was confused about the meaning of each symbol, and I gave them a thumb-up symbol. Suddenly, police kept slapping me and punched me in my nose," says Camacho while showing traces of injuries all over his face.
Camacho was kept for eight hours in the police station before he was released when a representative of the Colombian embassy intermediated.
"But their beating to me was nothing compared to the young protesters who were aggressively beaten in front of my eyes," says Camacho explaining that the police were proudly showing him this violent scenes to scare him.
Camacho case is more or less similar to many journalists, especially foreign reporters who are handed to police by local residents or arrested and beaten directly by police.
In both cases, the aim is to "pressure them not to criticize the military or police performance in Egypt" said Gamal Eid, the executive director of the Arabic Network for Human Rights Information (ANHRI).
The Interior Ministry media officer was not available to comment on the accusations against the police.
Such crackdown on journalists has increased in the past month as part of a campaign to push the western media via its correspondents here to improve Egypt's image abroad after the Western media campaigns slamming the military for ousting former president Mohamed Morsy.
Eid said such crackdown on journalists is an extension of Mubarak's oppressive acts against journalists and it increased after 30 June uprising when the new regime shut down many opposing TV channels. "Journalists have been targeted from both Muslim Brotherhood and the new regime," Eid says. "The current regime is hostile to all principles of democracy and human rights."
According the human rights activist, general prosecution acts as a subordinate to the Interior Ministry, which in turn leads to more police brutality against any freedom of speech.
In January, Egypt's chief prosecutor referred 20 journalists from the Al Jazeera TV network, including four foreigners, to trial at the criminal court over charges related to allegedly "joining or assisting a terrorist group" and "spreading false news that endangers national security."
According to the prosecution papers, the defendants were part of a media network "that has specialized in creating video scenes contrary to reality and airing them through Qatari AJE and US CNN to distort Egypt's international and reputation."
State-run newspaper Al-Ahram reported that the four foreigners include Al Jazeera English correspondent Peter Greste who is Australian as well as two Britons and one Dutch.
The prosecutor's office said 16 Egyptians working for Al Jazeera in the case are accused of joining a terrorist group, while the foreigners are charged with promoting false news benefiting the terrorist group. Analysts speculate that the foreigners have been charged with relatively lighter accusations on the ground that the international outcry will focus more on them rather than the Egyptians.
The prosecutor's statement said the accused had established a media network and used two suites in a luxury hotel in Cairo (Marriott) as a media center, supported with cameras, broadcasting equipment and computers.
The charges are based on the government's declaration last month of the Brotherhood as a terrorist organization. Authorities have long considered the Doha-based Al Jazeera network, which was highly acclaimed during 25 January revolution, as biased towards Islamists including Morsy and his group.
Al Jazeera's Cairo offices have been closed down since 3 July, after being raided by security forces in the immediate aftermath of the ouster of President Mohamed Morsy, who hails from the Brotherhood.
In January, Greste wrote a letter from Tora Prison. "The state will not tolerate hearing from the Muslim Brotherhood or any other critical voices," he wrote. "The prisons are overflowing with anyone who opposes or challenges the government."
In the context of polarization and the designation of the Muslim Brotherhood as a terrorist organization Greste wrote, "How you do accurately and fairly report on Egypt's ongoing political struggle without talking to everyone involved?"
The Al Jazeera network has described the allegations against Australian Peter Greste, Canadian-Egyptian Mohamed Fahmy and Egyptian Baher Mohamed, who were detained in their Cairo hotel on 29 December, as "absurd, baseless and false."
Heather Allan, input manager at Al Jazeera English, told Reuters that the three might spend up to two years in an Egyptian prison before a court date is set.
Egyptian authorities blames the Qatari broadcaster for working without accreditations. In that sense Allen said, "We had people rotating to Egypt and we did try to get accreditation for them and we never got anything back, so we just didn't bother with this lot," she said. But she said the lack of accreditation was no crime and "certainly is not a jailable offense."
When asked if the channel's management was aware of the risks associated with lack of accreditation in Egypt, Allan said: "I mean we always know what we should and shouldn't do. And certainly getting accreditation in Egypt is something you should do, but they stopped issuing it, or make it difficult for you to get (it)… We operate in many countries without accreditation, it's what we do."
Greste's parents, said to Al Jazeera website via video conference from their home in Brisbane, Australia.
"We're here to say to the Egyptian government that we're never going to forget they're there. We're always going to be campaigning to get them out," Oborne said.
Journalists working for local media have also been subject to police detainment. The same day the Colombian photojournalist and others were arrested, Karim Al-Behiry, a journalist for Al-Badil newspaper was detained.
According to his lawyer Karim Abdel Radi, Al-Behiry, who is still in custody, faces charges ranging from inciting violence, blocking roads and possession of Molotov cocktails and his detention was extended on Friday.
Abdel Radi claimed that while arresting him, security forces physically assaulted Al-Behairy and confiscated all his papers, including his press pass and contact list. He added that the journalist was not allowed to contact his lawyers.