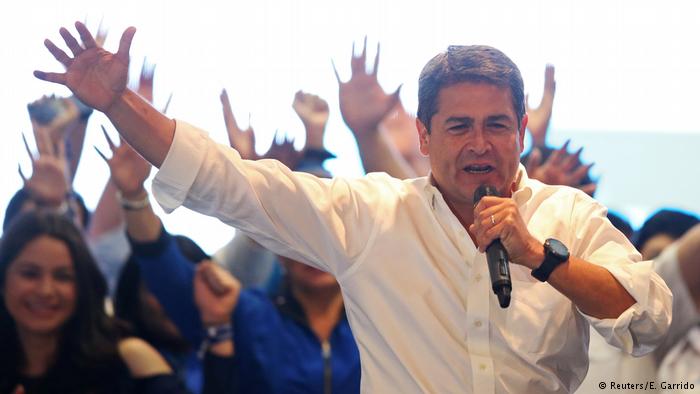 President Juan Orlando Hernandez has been swept to victory following the most divisive election in Honduras' democratic history. Opponents claim that his re-election is unconstitutional, prompting fears of instability.
Honduras President Juan Orlando Hernandez became the country's first re-elected leader on Sunday, capitalizing on a contested Supreme Court ruling that lifted a ban on one-term limits.
Exit poll figures showed incumbent Hernandez and his conservative National party taking 43.93 percent of the vote, ahead of the leftist popular sports commentator, Salvador Nasralla, who received 34.70 percent.
"I'm very content, happy, because I've been seeing … a huge number of exit polls and real-time processing of the ballots, and the result is more than clear: we won this election," Hernandez told a crowd of supporters.
After Hernandez claimed victory, his rival Nasralla's leftist Alliance Against the Dictatorship claimed their candidate won instead.
"I can confirm that the president Salvador Nasralla. We won the elections at a national level," said former President Manuel Zelaya, who coordinates the opposition and was ousted in 2009 for attempting a second-term bid.
'Security and governance'
Hernandez's popularity has largely been based on a drastic drop in the rate of violence under his presidency. Honduras has long wracked by poverty and violence, and not long ago claimed one of the highest homicide rates in the world.
However, according to Honduras' National Autonomous University, Hernandez's military crackdown on crime led to the rate almost halfing from 92 homicides per 100,000 people in 2011 to 56 per 100,000 now.
Hernandez also favors closely ties to the US. His campaign website even includes a quote from US Vice President Mike Pence, lauding him "for his leadership in addressing security and governance challenges."
Hernandez's re-election, however, has fueled charges that his National Party is seeking to entrench itself in power.
Although Honduras' constitution imposes a one-term limit on the presidency, Hernandez and his party contend that a 2015 Supreme Court ruling, which found that the ban violated a citizen's human rights, permits in his re-election.
Accusations of power grab
The opposition, however, has argued that the Supreme Court cannot override the country's constitution. His bid for a second term has also fueled concern among detractors over what they view as increasingly authoritarian tendencies of the presidency, reminiscent of the country's 20th century military rulers.
The dispute is particularly sensitive. In 2009, leftist President Manuel Zelaya (no relations to 2017 candidate Luis) was ousted in a military coup backed by Hernandez's National Party over fears he was planning to violate the constitution's rule on single-term limits.
Speaking to the Associated Press ahead of the vote, Zelaya said: "Here in Honduras there is no democracy; there is a dictatorship. The hypocrisy of the Honduran elite is evident … the people will have to decide at the ballot box."
However, Hernandez claimed that he needs a second term to consolidate his achievements, such as improving security, and appeared to have won over voters. Long-running accusations of corruption appeared to not to have blemished Hernandez' presidency.