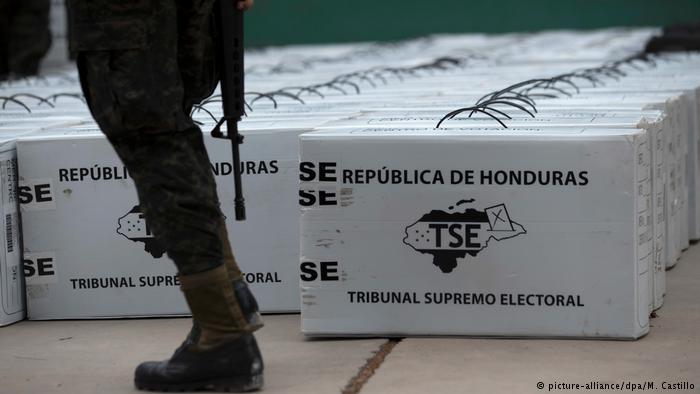 Votes are now being recounted from more than a thousand disputed ballot boxes after last week's presidential election. But allegations of election fraud persist as thousands take to the streets in protest.
Honduras' electoral tribunal has restarted a partial recount of nearly 6 percent of ballots from last weekend's presidential election, as the country's main opposition leader continued to demand a wider recalculation of the votes.
Authorities on Sunday ordered the reopening of some 1,031 ballot boxes in which inaccuracies were detected, ignoring calls by Salvador Nasralla — the candidate for the leftist Alliance of Opposition Against Dictatorship and a well-known TV personality — that thousands more polling stations be included.
With 95 percent of votes counted by late Friday, incumbent Juan Orlando Hernandez — who ignored a constitutional ban and ran for re-election — held a lead of more than 46,000 votes over Nasralla. It's not clear whether the remaining disputed votes could still swing the outcome.
Opposition misses recount
Representatives for Nasralla were asked to oversee the partial recount, but did not show up on Sunday.
"The Honduran people deserve a result, and the result cannot be held up by any presidential candidate or any party," said electoral tribunal president David Matamoros.
Accusations of election fraud were boosted in the days after the vote when Nasralla's 5-percent lead in early vote counts was later reversed in favor of Hernandez. A lengthy delay in the count only fed opposition complaints of irregularities.
Thousands of Nasralla's supporters took to the streets of the capital, Tegucigalpa, on Sunday once again accusing Hernandez and his government of trying to steal the election.
Nasralla told a rally that members of the electoral tribunal "are employees of President Hernandez."
"The tribunal is not an independent organism and as such is neither credible nor trustworthy for the people," he said.
New vote demanded
Nasralla has called for the creation of an international election tribunal to oversee a new presidential vote.
Since late last week, three people, including a 19-year-old woman, have been killed in demonstrations that have seen hundreds arrested. The military is enforcing a 10-day curfew of 6 p.m. to 6 a.m., in an attempt to quell demonstrations.
Honduras is one of the poorest countries in Central America, with a 27 percent unemployment rate. It also struggles with one of the world's highest murder rates, in part due to violent drug gangs.
Hernandez implemented a military-led crackdown on gang violence after he took office in January 2014 that was backed by the US.
The 64-year-old Nasralla is one of Honduras' best-known faces. He is backed by former President Manuel Zelaya, a leftist ousted in a coup in 2009.