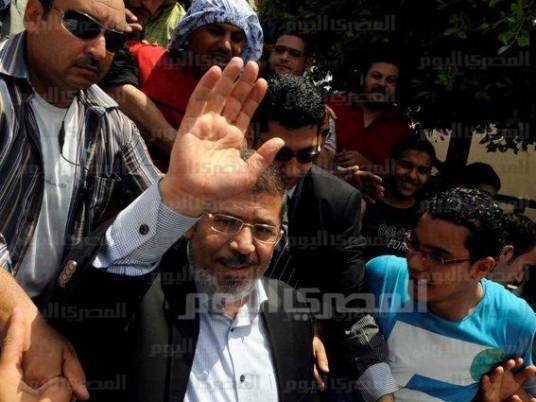 Giza prosecutors on Wednesday received a report of the latest investigation by the Homeland Security, formely known as the State Security Investigations Service (SSIS), into the violence in Nahda Square and the Bein al-Sarayat district.
The investigation found that ousted President Mohamed Morsy incited the violence, which left 23 people dead and 255 others injured in clashes between supporters of the Muslim Brotherhood and the residents of the areas.
The report, which was two pages long, said Morsy's speeches contained words that encouraged his supporters to take to the streets, create chaos, and disturb public peace. Consequently, masked terrorist groups killed citizens and dumped their bodies in the Orman public park, while others ascended roofs of buildings around Cairo University and shot bullets at the residents.
Forensic reports of the victims proved that they were shot in the head and the chest.
An Investigation also implicated other Brotherhood and Islamist leaders in providing Morsy supporters with money and weapons in response to the 30 June demonstrations that demanded his ouster.
Among the leaders are Hazem Salah Abu Ismail, head of the Salafi Al-Raya Party, Helmy al-Gazzar, a leading figure of the Freedom and Justice Party, Abdel Moneim Abdel Maksoud, a lawyer for the Muslim Brotherhood, Mohamed al-Omda, a former member of parliament, Abul Ela Mady, head of the Wasat Party, Essam Sultan, vice president of the party, Mohamed Badie, supreme guide of the Muslim Brotherhood, Safwat Hegazy, an Islamic preacher, and Assem Abdel Maged, a leading figure of the Jama'a Islamiya.
Edited translation from Al-Masry Al-Youm