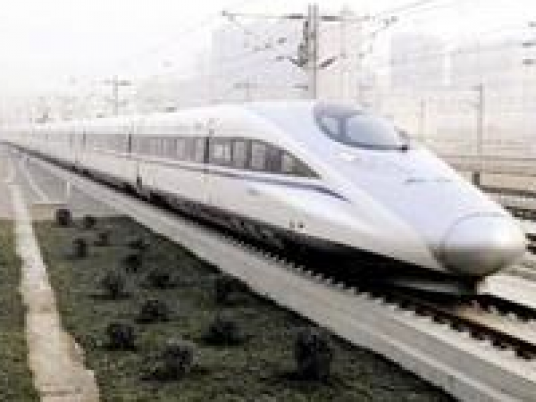 The final route for the high-speed electric train covering Ain Sokhna/Administrative Capital/al-Alamein will include 15 stations, a project map obtained by Al-Masry Al-Youm on Wednesday revealed.
An Egyptian-Chinese consortium between Samcrete and the Arab Organization for Industrialization last month won the bid to construct the nine billion dollar project, which covers 543 kilometers with speeds of 250 kilometers.
The consortium also includes the Chinese companies CCECC, CRRC, and CR20.
The map route shows the names of the stations that has been settled upon, which are: Ain Sokhna/the New Administrative Capital/Wagh Quibli/6th of October I/6th of October II/ Rawd al-Farag/Wadi al-Natroun/Burg al-Arab/Bahig/al-Hammam/al-Omayed/New Alamein City/Burg al-Arab Stadium/al-Amreya/Alexandria.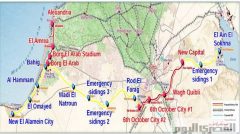 The train will start from Ain Sokhna, passing through the New Administrative Capital, south of New Cairo then to 6th of October and from there to Alamein, and then to Burj al-Arab, Alexandria and Hammam.
Informed Transport Ministry sources explained that the sequence of the project's construction has undergone revision.
The first, original plan was that it is constructed in three stages beginning with Ain Sokhna – the New Administrative Capital, the New Administrative Capital – 6th of October and then 6th of October – New Alamein City.
According to the sources however, Transport Minister Kamel al-Wazir has finalized a new scenario aiming to begin the project's construction in full, dividing civil work among five Egyptian companies that can be increased to speed up the project.
And sources within the consortium revealed that the Chinese government showed great flexibility in financing the project, having decided to inject investments worth two billion dollars into the project.
The alliance is also communicating with the Chinese government to provide a soft Chinese loan for railway work and signals.
China has further agreed to manufacture the project's coaches in a factory that will be established in East Port Said, the sources said, with a local Egyptian component of up to 40 percent.
Edited translation from Al-Masry Al-Youm