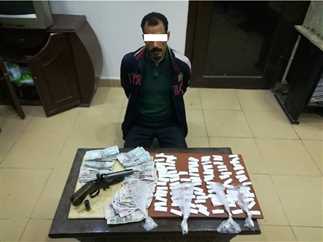 The Sharqiya Security Directorate authorities arrested a suspect over possessing 250 grams of heroin and a firearm. He was accused of trading narcotics.
The Criminal Investigation Department of the Sharqiya Security Directorate managed to arrest Mohamed F. M., 41, a resident of Zagazig who was previously charged with possessing drugs, theft, and thuggery.
According to the investigation, the suspect was trafficking narcotics and possessed firearms and ammunition without a license to defend his illegal trade.
He was arrested at ​​Kafr al-Hussar district in Zagazig on a motorcycle without number plates while possessing 250 grams of heroin, a firearm, ammunition and money.
He confessed during interrogation of his criminal activities. Legal measures were taken regarding the incident.
Recently, 13 suspects, including singer Shima, were remanded for 15 days in custody for charges of prostitution and drug trafficking.
The suspects were arrested in December 2018 in a famous coffee shop in Mohandessin neighborhood which the suspects, according to investigations, used in promoting their illegal activities.
The Administrative Control Authority announced on Thursday, December 6 the arrest of an international human trafficking network of 20 suspects, of various Arab and European nationalities. Later on, thirteen other suspects were arrested, bringing the total number to 33 suspects which included four foreigners.
According to the authority's statement at the time, the network took advantage of women in need of money, pressuring them into prostitution and drug trafficking.
They smuggled heroin, tramadol, and other banned drugs from Turkey and India, getting them through airports and land crossings and then having prostitutes sell the drugs to customers.
In July 2018, Egypt's Interior Ministry announced the seizure of a heroin factory and the arrest of five drug dealers from the factory.
The Interior Ministry's General Administration for Drug Control had coordinated with the National Security Agency and the public security sector to arrest a "very dangerous gang" that smuggled large shipments of heroin into Egypt, the Interior Ministry said in a statement at the time.
The gang had set up the factory for mixing, compressing, and reproducing heroin, the statement added.
The five suspects were arrested during a police raid on the heroin factory in Obour Cty, Qaliubiya governorate.
Edited translation from Al-Masry Al-Youm