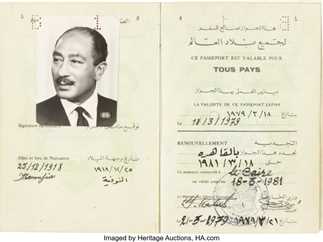 Heritage Auctions house have offered a diplomatic passport of the late President Mohamed Anwar Sadat, in both Arabic and French, for sale on its website.
The price of the passport of the late President Anwar Sadat, who carried Lot No. 47262 has reached US$47,500, on February 22, 2023.
"It says on it Anwar Sadats Diplomatic Passport Number 1 from 1974 to 1981. Forty-eight pages, 3.75″ x 5.25″, issued March 19, 1974. Unsigned. Anwar Sadat's official diplomatic passport number 1, printed in Arabic and French.
It was issued on March 19, 1974 and was valid until March 18, 1981, following a renewal on March 18, 1979," the description of the passport on the website, read.
"The flexible maroon leatherette cover is titled in gilt in Arabic and French and reads [English translation]: The Arab Republic of Egypt / Diplomatic Passport."
Pages two and three contain a printed statement from the foreign minister requesting aid and assistance be given to the holder.
Pages four and five have Sadat's personal information and a black and white photograph of Sadat. It includes one stamped visa from 1974, the website added.
According to the website, the passport has no visa stamps, but was used in several historic trips made by Sadat, including his visit to Israel on November 19, 1977.
This is where he met with Prime Minister Menachem Begin and gave his famous speech to the Knesset, and his 1978 trip to the US where he met with President Jimmy Carter and signed the Camp David Accords with Begin.
The auction house noted that there was very slight wear on the passport from use.