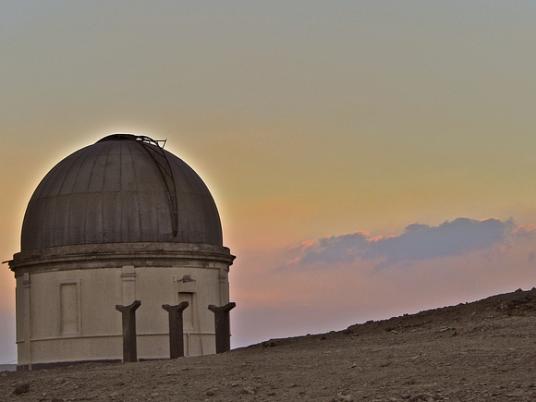 The National Research Institute of Astronomy and Geophysics (NRIAG) located in Helwan is a hidden gem for many young Egyptian scientists seeking to conduct research.
The NRIAG, founded in 1903, was initially used primarily by French and British astronomers observing the stars. Helwan's location, 30km south of Cairo, was ideal, as light pollution was low at that time. However, since the 1952 revolution, the NRIAG has been geared towards providing local opportunities for those unable to travel abroad to esteemed astronomical and geophysical research facilities.
"Our goal is to provide passionate, intelligent students with the opportunity to engage in hands-on research in subjects less commonly found within the Egyptian scientific community," says Samir Nawar, a professor at the NRIAG for over 25 years. "Just because one may not have the means to travel to institutions in Europe or go to NASA doesn't mean that they should miss out on the beauty of these sciences," he adds.
Since the 1960s, the institute has been refurbished, with additions including the Kottamia Astronomical Observatory, which hosts a large reflecting telescope similar to that housed in the Mount Stromlo Observatory in Australia, and the Misallat Geomagnetic Observatory, which is capable of measuring geophysical qualities, such as gravity's relationship to the Earth's magnetic fields and outer atmospheric temperatures.
In 2011, a few significant astronomical events have been observed at the institute, including the M51 Supernova, a stellar explosion in June, and the remnants of Comet Elenin in October.
"Due to limited funding from academic institutions and sporadic government donations, we unfortunately aren't able to host state-of-the-art technology," states Nawar. "But at the same time, we remind students that it's not always technology that matters."
Despite the humble technology available onsite, ambitions and passions run high, and much stress is placed on sharing knowledge with similar, neighboring Arab institutions, such as the physics and astronomy departments at King Abdulaziz University (KAU) in Saudi Arabia. Since 2008, the NRIAG has organized two regional conferences under the title "Arab Conference on Astronomy and Geophysics." The most recent conference took place in Egypt in October 2010.
"The conferences are an opportunity for all Arab students to get together and share their knowledge, embark on joint research projects, and establish online data exchange networks," explains Nawar. "This allows academically efficient studentswith less access to technology to network with other students who have access to better equipment."
As a result of such networking opportunities, as well as great ambition, Egyptian students have been able to conduct advanced scientific studies in fields including astronomy and geophysics.
Mostafa Hussein, a student at the NRIAG from Ain Shams University, in collaboration with KAU students and through the use of KAU facilities, has recently been measuring distances to outer galaxies by observing faint quasars: celestial bodies that emit highly energetic radiation.
Another NRIAG student, Ashraf Abdel Tawab, who holds a doctorate in engineering and earth sciences from the University of Alexandria, has been working to develop a method to extract methane hydrate from the bottom of the Earth's oceans. Methane hydrate is an ice-like biological residue, compressed at the bottom of the Red Sea. If extracted properly, it could provide another much needed source of global energy, similar to natural gas.
"The goal of the NRIAG is to nurture scientific thinking and an appreciation for the scientific method by encouraging interested students to embrace passions that might otherwise be ignored or belittled by their parents or the professional community," Nawar states.