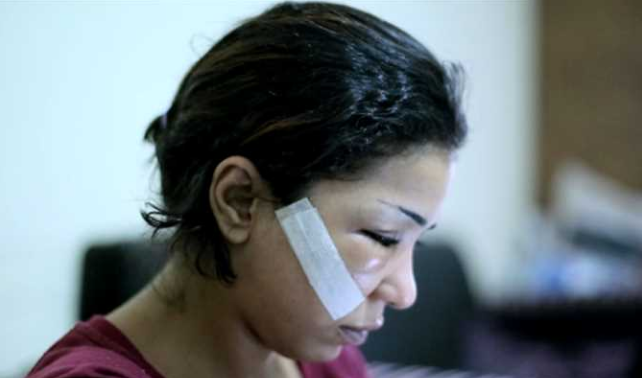 Somaya Tarek Ebeid, known in the media as the 'Heliopolis mall girl', broadcast her attempted suicide in a Facebook live video on Friday morning that she dubbed "the last minutes," two months after she was stabbed in the face by a man seeking 'revenge' against her after he was imprisoned for assaulting and sexually harassing her.
In a haunting video monologue, she said, "I thought I should catch the last minutes and try to say anything because I won't have time. I'm dying now, my nerves are so loose, my body feels too heavy and I can't breathe."
"I wanted an easy death because I'm tired of the scene of blood. That doctor who prescribed a sleeping pill for me is a very great doctor […] Nobody can reach me [through my mobile]. I feel that my heart makes boom boom," she went on.
Al-Masry Al-Youm managed to contact Ebeid, who said that a friend transferred her to hospital where she was being treated after surviving the suicide attempt.
Ebeid was previously in the public eye after an incident in Heliopolis mall in October 2015.
Ebeid was sexually harassed by a man at the mall but defended herself against him, only to be slapped by the man in retaliation for standing up for herself.
She then reported the incident to police, but after they did not offer to conduct any action, she took resorted to doing so herself by publishing a Facebook post which circulated widely, in which she explained the incident, and attached CCTV footage of the slap, recorded by the mall's surveillance cameras.
The video showed a man talking to Ebeid and then slapping her, before security personnel intervened.
Her Facebook post proved effective, and the man was imprisoned for two weeks – although, it was for the slap, not for sexual harassment. In an interview with Al-Masry Al-Youm in October, she expressed dissatisfaction at the weak punishment for her harasser, asserting that judicial sentences should be harsher to deter people from sexually harassing others.
In October, two years after the initial incident, the harasser stabbed Ebeid in the face, as an act of revenge for filing a complaint against him.
The incident had clearly taken its toll on Ebeid, who said: "I feel exhausted. I have nightmares everyday since the accident."
She explained that she attempted suicide by trying to overdose on antidepressants. Ebeid had been using an antidepressant used to treat those suffering from severe depression and bipolar disorder.
A court date has been set for December 19 for the trial of the harasser over stabbing Ebeid.
Edited Translation from Al-Masry Al-Youm