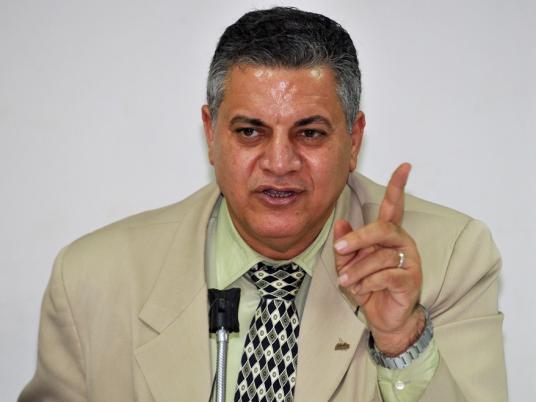 When I stopped working in politics, every Egyptian president wanted to take my advice. I never said no, even to Sadat, with whom I have disagreed, not to Mubarak and Morsy.
With these words, journalist Mohamed Hassanein Heikal starts to tell about his career over more than seven decades in the press and in politics.
Today, 23 September, Heikal celebrates his 91st birthday in the village of Bassous, Qaliubiya. He still has secrets to divulge. He knows where he stands and he moves in that space flexibly as a young man in his 20s. His wrinkles do not only reflect his age, they paint a picture of his personality and his career with all the positive and negative aspects.
Some call him the "Master" or the "Icon of the Press," others sarcastically call him the "Man of all Times" because he has been a contemporary to two kings and six presidents.
As a journalist, he used his skills to become close to the ruling circles, familiar with the backstage of politics and the decision-making process. This gave him an "aura" that hemmed around him wherever he went.
Some consider him Nasser's visionary due to the unique friendship they had, a friendship between a statesman and a journalist since the 1952 revolution. And in 1953, he edited Nasser's book "The Philosophy of the Revolution."
Heikal says Nasser was not a dictator. "Nasser hated the worshiping of an individual," he said about him. "And so, no one should make of him after his death a god worshiped in another pyramid of Egypt."
This last quotation was published in Al-Masry Al-Youm on 27 September 2012 in an article of his titled "Nasser is not a Myth."
He adds: "I collected part of Nasser's thoughts and the result was amazing. They filled more than 6000 pages of speeches or interviews in the 18 years of his rule. Also, there are 3000 hours of recordings in radios and televisions in Egypt and abroad, and at least another recorded or written 1000 hours of official minutes of internal, regional and international meetings."
"Something Nasser was proud of was that he was able to bring the street to politics and bring politics to the street," he said.
Businessman Hassan Heikal, the son of the "Master," says his father cried twice: The first time was on the beach in Alexandria in November 1977 when he heard on Egyptian radio that Sadat's plane is landing in Israel escorted by the Israeli Air Force. "Every word of this announcement contradicted all what he lived for," his son said.
This incident clearly indicates his differences with Sadat who accepted a policy of "disengagement" that Heikal considered a unilateral settlement away from the rest of the Arab-Israeli conflict.
Heikal was one of those arrested on 3 September 1981 when Sadat, right before his assassination, suppressed the opposition to the Camp David Agreement and arrested 1536 symbols of the opposition in Egypt, including writers, journalists and clergymen, on charges of inciting sectarian strife and threatening national security.
On 25 November 1981, Mubarak released Heikal, who said at the time that he was willing to support Mubarak and praised him for releasing the political detainees.
Yet in his book "Mubarak: His Time from the Nasr City Podium to Tahrir Square," Heikal mentioned that his relationship with Mubarak was tense. It began with the passing of Law 93 for the year 1995 for the Journalists Syndicate. "This law reflects an aging power that feels overtaken," he told the syndicate's general assembly at the time. He repeated the same phrase in a lecture at the American University in 2002 adding to it that "Mubarak is dredging the country."
In an interview with The Sunday Times in July 2012, Heikal called for giving Mohamed Morsy and the Muslim Brotherhood a chance to rule the country although he believed they would not succeed. "Morsy is a kind man," he said. "But I'm not sure he knows much about the Arab world or the Egyptian policy."
When Morsy was elected president, he met with Heikal for three hours to take his views about the situation in Egypt.
Before the the millions took to the streets on 30 June to demand the ouster of Morsy, Heikal told Lamis al-Hadidi of the CBC channel that he was disappointed by Morsy's performance. "If Mubarak was dredging the country, this situation is eroding the country," he said.
He supported Abdel Fattah al-Sisi candidacy for the presidency after the announcement of the roadmap on 3 July, saying his military background was suitable for Egypt.
Some say that one feels Heikal's spirit in Sisi's speeches, but Heikal denies he is an advisor to Sisi. "I cannot be the president's advisor at my age. I cannot be part of the regime. And I'm not the man of all times," he says.
"I know where I stand and I don't exceed my limits. But I am here for anyone who seeks my advice," he adds.
Heikal also says that he can better read the situation when he is abroad. "You see things better from there," he says.
Edited translation from Al-Masry Al-Youm