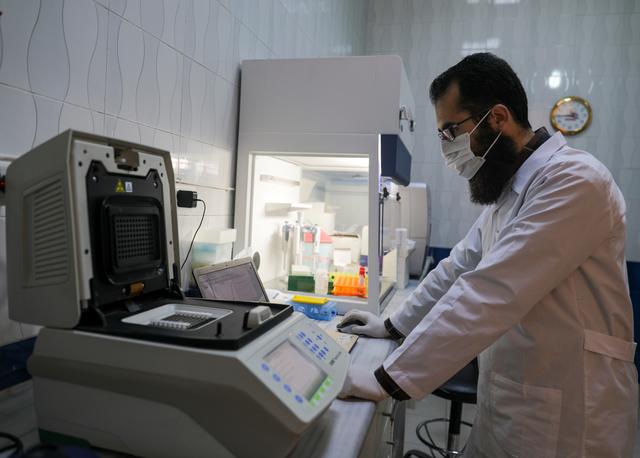 Minister of Health and Population Hala Zayed announced on Thursday that 200,000 rapid coronavirus tests have been conducted, and more than 90,000 PCR tests have been used on suspected cases.
Zayed thanked workers in the Health Ministry's Central Public Health Laboratories across the country.
The virus department is one of the most crucial departments of the central laboratories, she said, as it is responsible for conducting analysis of the new coronavirus with 900 people staffed in its medical teams throughout the country – including doctors, pharmacists, chemists, lab technicians, and administrators.
At these laboratories, swabs are taken and analyzed with results sent to the Health Ministry's crisis room, greatly aiding in the early detection of affected cases and their transfer to isolation hospitals for treatment.
Zayed added that the number of virus laboratories across Egypt has risen to 27 laboratories, including 12 laboratories with a capacity increased from 20 cases to 100 cases every five hours.
The central laboratories have 36 PCR analysis devices for coronavirus testing – nine in the main headquarters in Cairo and 27 in branches across the country.
A unified electronic network links the central laboratories to sub-laboratories, enabling the speedy arrival of results until the necessary measures can be taken, Zayed said.
This ensures total confidentiality of the data, the minister said, adding that another 12 PCR devices will be installed within the next month.
She confirmed that there is a sufficient stock of swabs and test samples to conduct the PCR analysis.
Egypt announced on Friday 201 new coronavirus cases and seven additional deaths, bringing the total number of cases confirmed so far in the country to 4,092.
Two-hundred and ninety four people have died from the virus in Egypt.
Egypt's government has shut down schools, suspended flights and imposed nationwide curfew to control the outspread of coronavirus.
The government also suspended Friday prayers and congregational prayers in mosques nationwide on March 21 and churches were closed across the country as well.