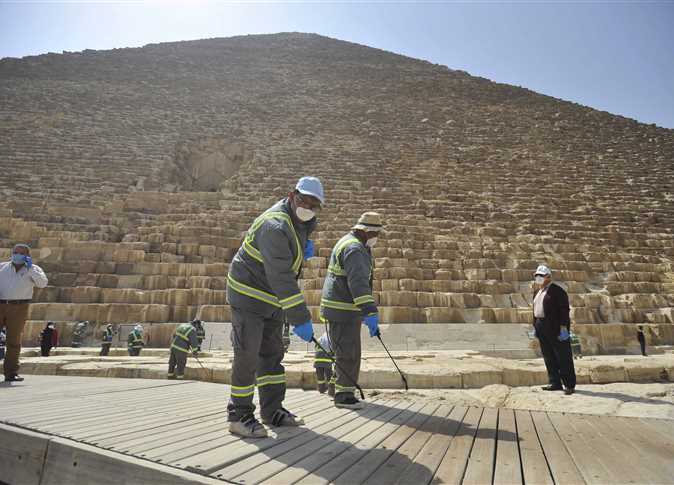 Egypt confirmed on Wednesday afternoon 14 new coronavirus cases, in addition to 40 others announced earlier that day, bringing the total number of cases in the country to 456.
Also on Wednesday, Egypt's Health Minister Hala Zayed held an in-person press conference to review how infections have spread in the country and the government's response, with some criticizing the conference's organizers as photos showed overcrowding at the venue despite the virus outbreak.
Egypt's Minister of Information Osama Heikal responded by noting that everyone in attendance was provided with face masks and all precautionary measures were taken in preparation for the press conference.
Twenty-one people have died from the virus in Egypt, as well as two senior military officers. The most recent death was announced on Wednesday — a 63-year-old Egyptian man from Monufiya Governorate.
Health Ministry Spokesperson Khaled Megahed explained that the new cases had all been in contact with individuals previously confirmed to have been infected with the virus, adding that the total number of fully-recovered cases rose to 95 on Wednesday evening, all of whom have been discharged from isolation hospitals.
During the press conference, Zayed stressed that authorities are working to prevent a scenario similar to that of Italy, where hospitals have been overwhelmed and over 7,500 people have died from the virus.
She said that preventive measures taken by the state aim to reduce the percentage of daily infections, in order to ensure that new cases can be accommodated at hospitals. She appealed to citizens to abide by state decisions, such as a newly-imposed nighttime curfew.
She added that the elderly, people with preexisting conditions, and pregnant women were at a higher risk from the virus, while some individuals may not even show symptoms of the disease while spreading it.
Zayed said that all outpatient clinics in hospitals in all Governorates have been closed to prevent overcrowding among patients, adding that the medical teams from those clinics are being sent to other medical facilities and centers.
Twenty-one laboratories have been prepared to conduct coronavirus tests, she said, adding that over 25,000 people who arrived in Egypt from abroad had undergone the test during the week that preceded the closure of airports nationwide, which has now been extended through April 15.
She stressed that coronavirus tests should only be conducted at the Ministry's laboratories or the laboratories of university hospitals, which she says coordinate together under one network.
On Tuesday, Prime Minister Mostafa Madbouly imposed a two-week nationwide curfew from 7 pm until 6 am beginning on Wednesday and extended school closures an additional two weeks to fight the spread of coronavirus.
Egypt had already closed mosques and churches across the country, banned shisha at cafes, and asked non-essential stores and shops to close each evening.
Under the curfew announced on Tuesday, shops will be closed from 5 pm until 6 am during the week, while stores will be subjected to a complete shutdown on Fridays and Saturdays.
However, the closure decisions do not include bakeries, pharmacies, grocery stores or supermarkets outside shopping centers, Madbouly said, while restaurants will be limited to home delivery only.
Cafes have been shuttered completely.
Violators of the curfew face penalties ranging from a fine of LE 4,000 to imprisonment.
Cairo police and local authorities have also launched a crackdown on street vendors at the popular Ataba and al-Mosky markets, following orders from Cairo Governor Khaled Abdelaal to prevent overcrowding in outdoor marketplaces amid the virus outbreak.
Meanwhile, museums and tourist sites across the country also closed down on March 23 and are currently being sanitized.
Madbouly had issued a resolution on March 17 to reduce the number of employees in the public sector, instructing work from home whenever possible, while Egypt's cabinet is currently mulling establishing a crisis management fund to support workers in the informal economy who have been impacted by coronavirus and harsh measures to control its spread.
President Abdel Fattah al-Sisi also previously announced a LE100 billion comprehensive plan to counter the outbreak and its negative economic consequences, while the Central Bank of Egypt has adopted various measures to cushion the economy as harsh measures are implemented to contain the outbreak.
These include a three percent interest rate cut, providing loans to tourist establishments with repayment terms of up to two years, and an injection of LE 20 billion, or $US 1.27 billion, to support the stock market.