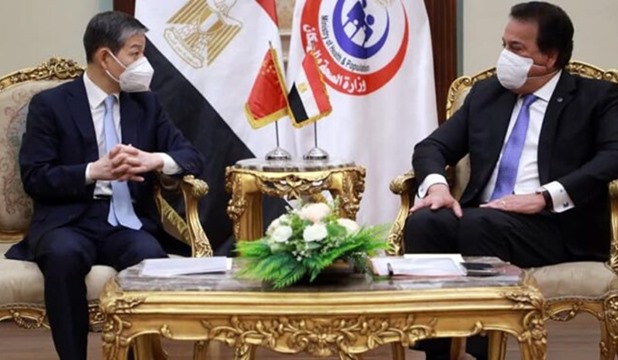 Health and Population Minister Khaled Abdel Ghaffar stressed on Monday the interest of the political leadership in the file of cooperation with the Chinese side.
During his meeting with Chinese Ambassador in Cairo Liao Liqiang, the minister expressed his ministry's keenness on enhancing cooperation with Egypt in the research, development and innovation of anti-virals, vaccines and serums.
In a statement, spokesman for the Health Ministry Hossam Abdel Ghaffar said that the health minister thanked China for its efforts in backing the Egyptian health sector, adding he is looking forward to expediting the process of completing vital safety laboratories.
The minister also stressed the importance of shoring up bilateral cooperation to help deal with any future pandemics and benefiting from Chinese expertise in the area of medical industries that contributed to the improvement of the Egyptian health sector.
The minister followed up with the Chinese ambassador progress made so far to carry out the health projects that are being implemented between the two sides, on top of which is the establishment of a scientific research laboratory for biosafety at the level of Biosafety Level 3 (BSL-3).
The two sides also discussed cooperation in increasing the production lines of vaccines and serums, underlining that Egypt has skilled and trained human cadres that qualify it to become a regional center for manufacturing and distributing vaccines.
The meeting also took up the establishment of nine environmentally friendly healthcare facilities, in addition to cooperation in equipping them with a pre-acquired MRI or computed tomography (CT), ultrasound machines and cardiac catheterization equipment.
For his part, the Chinese ambassador thanked President Abdel Fattah El Sisi for his effort to improve the healthcare sector in Egypt.