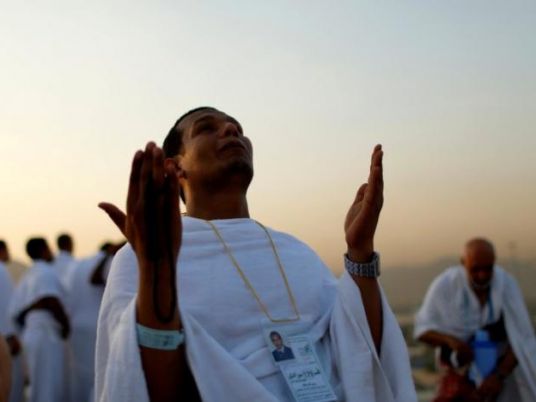 Nearly two million Muslim pilgrims performed a symbolic stoning of the devil on Monday, the riskiest part of the annual haj pilgrimage, a year after the ritual's worst disaster in decades.
Saudi Arabia, which stakes its reputation on organizing the world's largest annual Muslim gathering, has deployed thousands of security forces, civil defense staff and volunteers as well as modern technology including drones and electronic bracelets to ensure a safe pilgrimage.
Last year, Saudi Arabia said that nearly 800 pilgrims were killed when two large groups of pilgrims arrived together at a crossroads in Mina, a few kilometers east of Mecca, on their way to performing the stoning ritual at Jamarat.
Counts by countries of repatriated bodies showed over 2,000 people may have died, more than 400 of them Iranians.
Saudi authorities have said that some 1.86 million Muslims from around the world are performing the pilgrimage at Islam's holiest city, one of the main pillars of Islam which every able-bodied Muslim is required to undertake at least once.
That is less than previous years, when up to 3 million pilgrims have attended. Authorities say disruption caused by expansion work and infrastucture projects in Mecca have combined with conflicts in the region to restrict the numbers.
Under close supervision from Saudi authorities, pilgrims in seamless white clothes, converged on Jamarat carrying the pebbles to perform the ritual from a three-storey bridge erected to ease congestion.
In previous years, jostling to perform the stoning before returning to pray at the Grand Mosque accounted for many of the frequent stampedes and crushes that had afflicted haj.
"This year, they have organized the situation better," said Abdel-Rahman Badr, an Egyptian pilgrim. "I feel happy to be conducting the haj rituals," he added.
But another 60-year-old pilgrim, who identified himself as Mohammed, said "more work was needed, especially to ensure comfort for older pilgrims".
Sermon preacher
King Salman was in Mina on Monday, the first day of the Eid al-Adha feast, to oversee implementation of the plan to avoid potentially deadly congestion.
On Sunday, pilgrims prayed on Mount Arafat at the climax of haj. Prior to departing Mount Arafat back to Mina, they joined top Saudi officials in prayer at Namira Mosque, site of the last sermon by Prophet Mohammad 14 centuries ago.
But, for the first time in more than 35 years the Grand Mufti and the country's top religious authority, Sheikh Abdulaziz Al al-Sheikh, did not deliver the main sermon.
Instead, Saudi media said the imam and preacher of the Grand Mosque in Mecca, Sheikh Abdul-Rahman al-Sudais, delivered the sermon.
Saudi media have said that Al al-Sheikh had asked to be relieved from delivering the sermon due to poor health.
Last week he joined an escalating war of words with Saudi Arabia's main regional rival Iran over the pilgrimage, when he said Iran's leaders were not Muslims in response to criticism by Iranian Supreme Leader Ayatollah Ali Khamenei over how it runs the haj after last year's crush.