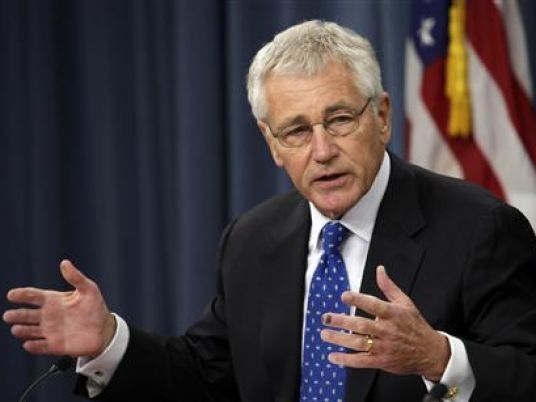 Defense Secretary Chuck Hagel telephoned his Egyptian counterpart on Saturday to voice US concerns about a new Egyptian law that curbs protests and has prompted the arrest of a group of Egyptian girls and political activists, a spokesman said.
Hagel, in a call to Defense Minister Abdel Fattah al-Sisi on Saturday morning, said the Egyptian government's approach to free speech would be seen as a demonstration of its "commitment to a non-violent, inclusive and sustainable democratic transition," Pentagon spokesman Carl Woog said in a statement.
The US defense chief is considered an important channel of communications with Egypt because of the close military ties between the two countries.
The United States provides Egypt with about $1.55 billion in aid annually, most of it military assistance. But US officials said in October that the United States would withhold some of that assistance, including weaponry and cash, pending progress on democracy and human rights issues.
The Egyptian protest law, which bans demonstrations without prior police approval, was passed a week ago by the military-backed interim government and has provoked an outcry among rights groups.
Since then, police have used tear gas and water cannon to disperse Islamist protesters supporting deposed President Mohamed Mursi, who was ousted on 3 July. A number of activists have been charged under the new law.
Ahmad Maher, a symbol of the popular uprising that ousted President Hosni Mubarak in 2011, turned himself in to the authorities on Saturday after an order was issued for his arrest for defying the new restrictions.
And 21 women demonstrators were given prison sentences on Thursday of up to 11 years for participating in a violent protest in support of Mursi. Seven of the women were under age 18, the youngest 15.
Woog said Hagel and al-Sisi also discussed the status of Egypt's new constitution and its plans to hold a referendum to vote on the document. The new constitution will bolster the military's hand in the government and ban religious parties, according to a draft completed on Saturday.
Hagel and al-Sisi also discussed terrorism, border and maritime security and regional issues such as Syria and Iran, Woog said.
Hagel expressed condolences over the death of 10 Egyptian soldiers in a recent car bomb attack by al Qaeda-inspired militants in the Sinai and thanked al-Sisi for continuing to fight terrorism in the peninsula, Woog said.