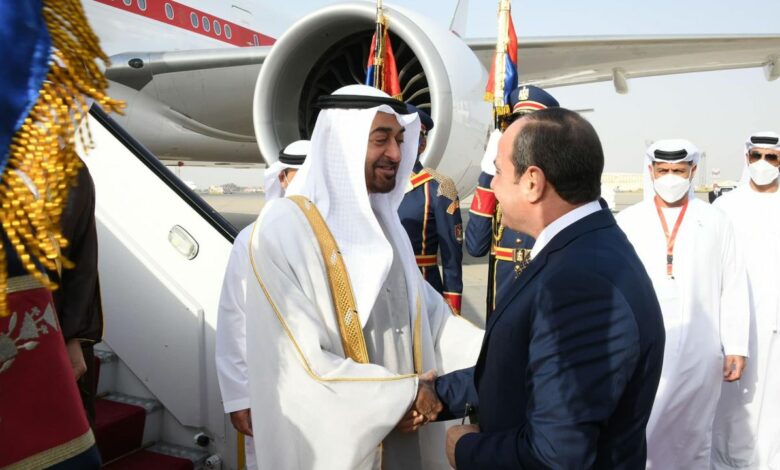 Abu Dhabi
CNN
 —  Big Gulf Arab oil states are using the newfound
riches they've reaped
as a result of the Ukraine war to build economic bridges with their poorer neighbors, some of whom they once considered adversaries.
The monarchies are now doubling down on economic cooperation. At the heart of this diplomatic initiative are sovereign wealth funds, which are working to secure regional stability through billions of dollars' worth of investments.
Saudi Arabia and the United Arab Emirates – both of which are generating massive returns from this year's oil price hikes – are taking the lead with such investments, entrenching themselves in countries that have faced unrest in part because of economic distress.
Middle Eastern energy exporters, including Gulf countries, are expected to see a windfall of around $1 trillion dollars over the next four years on the back of this year's oil boom, said the International Monetary Fund (IMF) last week.
"Money talks," Michael Maduell, president of the Sovereign Wealth Fund Institute in Las Vegas, told CNN. "Sovereign wealth funds can be used as foreign policy tools, a sort of soft power."
After almost a decade of a combative regional policy, Saudi Arabia and the UAE are moving towards a less confrontational approach. Both have mended ties with regional foes Turkey and Qatar, and both have reached out to Iran. They have also significantly reduced their military activity in Yemen, where they went to war seven years ago.
Analysts say this is a new approach to ensure regional stability, mainly by bolstering key economies across the Middle East through investments that are closely tied to their funders.
"The current structure is certainly an evolution from days where hard power was viewed as more productive," said Ayham Kamel, head of Eurasia Group's Middle East and North Africa research team.
Saudi Arabia's de facto ruler, Crown Prince Mohammed bin Salman, last week announced that the nation's wealth fund, the Public Investment Fund (PIF), is establishing five regional companies worth $24 billion across the Middle East.
From infrastructure and real estate development to telecoms and technology, PIF's new investments target Bahrain, Iraq, Oman, Jordan, Sudan and Egypt.
Some of these countries experienced political upheaval when the 2011 Arab Spring uprisings rocked the region more than a decade ago. Others are still wedged in the economic and political chaos left behind.
"This is part of the soft and sticky power aspect of the strategic and tactical move away from a decade of confrontation and conflict initiated by the Arab Spring," said Hussein Ibish, a senior resident scholar at the Arab Gulf States Institute in Washington.
"The countries that projected power in the Middle East, including Saudi Arabia and the UAE – with the partial exception of Iran – found themselves overextended and to some extent exhausted after a decade of confrontation," he told CNN.
PIF's announcement came on the second day of the Future Investment Initiative in Riyadh. In a statement, PIF said that it was pursuing a "strategy of seeking new investment opportunities in the MENA region." The investments are also meant to "diversify Saudi Arabia's sources of revenue," it added.
Last year was generally good for state-owned investors around the world, according to Global SWF's 2022 annual report, with the size of the sovereign wealth fund industry expanding by 6% in 2021 and for the first time in history exceeding the $10 trillion mark.
The UAE's wealth funds in particular are at the forefront of the industry. The Gulf state manages around $1.3 trillion through its four funds, said Global SWF.
One of the key regional investment destinations for both Abu Dhabi and Riyadh has been Egypt. A North African state with pinching economic troubles, Egypt erupted in nationwide protests in 2011, leading to the fall of longtime ruler Hosni Mubarak. To Gulf states' dismay, the events that followed briefly gave rise to the Muslim Brotherhood, an Islamist political group that is viewed with suspicion in Saudi Arabia and the UAE and is now considered a terrorist organization by both.
Egypt's unrest more than a decade ago was sparked partly by the nation's economic woes. Today, the Egyptian currency is again falling in value and inflation is soaring as authorities try to keep the economy afloat by securing loans from the International Monetary Fund (IMF).
In August, Abu Dhabi Developmental Holding Company (ADQ), one of the emirate's wealth funds, announced a number of investments in publicly listed companies in Egypt, "building on its long-term commitment to investing in the country's economic growth through its $20 billion joint strategic investment platform," it said in a statement.
Saudi Arabia's PIF also launched the Saudi Egyptian Investment Company (SEIC) in August, a company dedicated to investments in several vital sectors of the Egyptian economy. SEIC has bought $1.3 billion dollars' worth of stakes in four Egyptian companies.
Gulf monarchies' financial diplomatic hand has already proven effective in some countries. Once a regional rival, Turkey is now an economic ally of Saudi Arabia and the UAE.
"Even with adversaries, the Gulf states now see their financial assets as potentially important levers in building bridges and incentivizing more moderate policies in these countries," said Kamel. "Rapprochement with Turkey has come with valuable investments or financial injections."
Facing a grueling currency crisis at home, mending ties with Saudi Arabia and the UAE comes at an opportune time for Ankara.
Last year, the UAE established a $10 billion dollar investment fund to "support the Turkish economy and boost the bilateral cooperation between the two countries."
A number of other agreements between the UAE's ADQ and the Turkey Wealth Fund (TWF) also followed, with major investments planned in venture capital and companies with high-growth potential in Turkey.
And this month, Saudi Minister of Commerce Majid Bin Abdullah Al-Qasabi said that his country's investments in Turkey now amount to $18 billion, according to the Saudi Gazette, adding that PIF is looking at further investment opportunities there.
Despite a political thaw, Gulf investments in Iran and Syria are unlikely for the time being, say analysts. But there are signs of a growing economic relationship with them. Iran and the UAE are targeting $30 billion in annual trade within the next two years from $20 billion this year, the Tehran Times reported. Earlier this year, Syrian TV reported that the UAE is weighing investments in the country, without providing details.
But those kinds of economic partnerships may go a long way in helping shield Gulf nations from future unrest and conflict with their neighbors.
"Infrastructure integration," says Ibish, can help "reduce the risk of conflict by creating mutual interests and interdependency," giving countries strong incentives to avoid confrontation.